Modena, 1 August 2023 – Maserati, the iconic Italian luxury car manufacturer, unveils its latest masterpiece, the Maserati MCXtrema, a track-only powerhouse boasting an impressive 730 horsepower. This exclusive racing car, aptly named to signify its extraordinary capabilities, stands as a tribute to Maserati's racing heritage and commitment to pushing the boundaries of automotive innovation.
Formerly known under the codename 'Project24', the Maserati MCXtrema is now set to take the world by storm with its official name, echoing the success of the Maserati MC20 – a groundbreaking super sports car that heralded a new era for the brand. The name also pays homage to Maserati Corse, a symbol of racing excellence, and embodies the concept of extreme performance that defines this exceptional automobile.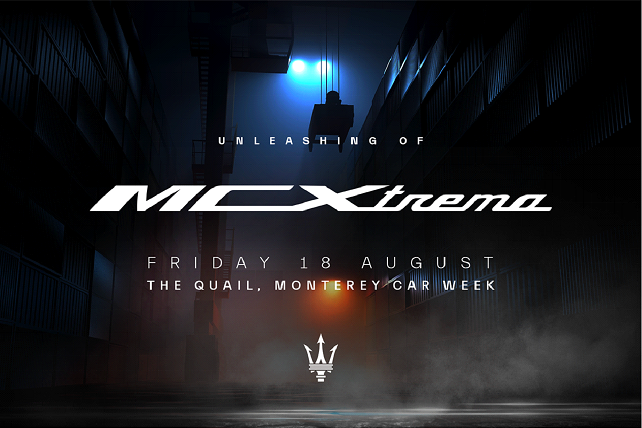 Limited to a production run of just 62 units, all of which have been quickly spoken for, the MCXtrema embodies the philosophy of introducing something truly unique and disruptive to the racing scene. Crafted to cater to gentleman drivers and racing enthusiasts, this track-focused marvel is designed to captivate hearts and ignite a fervor for extreme racing. Its exquisite design and mind-boggling performance set the stage for a truly remarkable experience on the world's most prestigious tracks.
The grand unveiling of the Maserati MCXtrema is scheduled to take place at The Quail on 18 August, during the highly anticipated Monterey Car Week 2023.
About Maserati S.p.A.
Maserati S.p.A. is synonymous with automotive excellence, producing a range of vehicles celebrated for their distinct personality and unparalleled allure. With a rich tradition of success, each Maserati model redefines the quintessence of an Italian sports car through its fusion of design, performance, comfort, elegance, and safety. These iconic vehicles are available in over 70 international markets and include the flagship Quattroporte, the sporty Ghibli sedan, the groundbreaking Levante SUV, and the all-new "everyday exceptional" Grecale SUV – a testament to Maserati's commitment to quality and innovation.
The Maserati lineup boasts a range of powertrains, including 4-cylinder hybrids for Ghibli, Grecale, and Levante, along with V6 and V8 petrol options with both rear-wheel and four-wheel drive. The MC20 super sports car and the MC20 Cielo spyder showcase the cutting-edge 100% Maserati Nettuno V6 engine, integrating Formula 1-derived technologies into a standard production car for the first time. The forthcoming GranTurismo will be available with a high-performance V6 petrol engine and a 100% electric version, known as the GranTurismo Folgore.
Maserati's commitment to sustainability is evident in its plans to offer all models in a full-electric variant by 2025, with the goal of transitioning the entire Maserati lineup to electric power by 2030.
For further information: MASERATI Maria Conti – Chief Communication Officer Maserati – [email protected]