Photo gallery and specs of the first McLaren 765LT in Malaysia
The McLaren 765LT is now in Malaysia. The first customer car has been delivered in Special Curacao Blue with Papaya Orange brake calipers and seat belts. Optional extras in the supercar are the McLaren Special Operations Club Sport Pro Pack and the carbonfibre roof scoop. The MSO Club Sport Pro Pack consists of: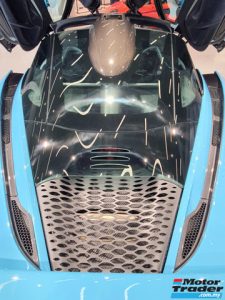 Super-lightweight carbon fibre racing seats
Track brake upgrade
McLaren Track Telemetry (MTT) with lap time function and three cameras
MSO Defined Satin Finish Visual Carbon Fibre Air Vents
MSO Defined Dark Titanium Harness Bar
MSO Defined Six-Point Harness in McLaren Orange
In the pictures, the car has Papaya Orange standard three-point seat belts which are for everyday use. The six-point harnesses were in the boxes in the boot.
The full technical specs of the McLaren 765LT are below after the photo gallery.
Full details of options available can be found in the McLaren 765LT Features Options Guide.
Before options and relevant taxes, the McLaren 765LT is RM1,488,000 in Malaysia. The comprehensive three-year unlimited mileage McLaren Vehicle Warranty is standard. A 12-year McLaren Extended Warranty is also available. For more details, contact McLaren Kuala Lumpur at https://kualalumpur.mclaren.com/en
Technical Highlights of McLaren 765LT
Engine Configuration
M840T 4.0-litre twin-turbocharged V8 engine
Drivetrain layout
Twin electrically-actuated twin scroll turbochargers, dry sump
Transmission
Seven-speed + reverse Seamless Shift Gearbox (SSG)
Suspension
Double wishbone, adaptive dampers, proactive chassis control II
Non-active, Comfort, Sport, Track modes
Steering
Electro-hydraulic; power-assisted
Brakes
Front: 390mm carbon-ceramic discs, six-piston monobloc aluminium calipers
Rear: 380mm carbon-ceramic discs, four-piston aluminium calipers
Power and Performance
Maximum Power BHP ……………………….755 @7500rpm
Maximum Torque Nm ……………………………..800 @5500rpm
0-100 km/h …………………………………….2.8 seconds
0-200 km/h ………………………………….7.0 seconds
Stopping Distance: 100-0 km/h …29.5 metres
Stopping Distance: 200-0 km/h … 108 metres
Weight
V Max km/h ……………………………………………….330
DIN Kerb Weight [fluids + 90% fuel] ………………1,339 kgs
Dry Weight ……………………………………………………………Minimum: 1,229 kgs
Weight Distribution …………………………………………….Front: 42%
Weight Distribution …………………………………………….Rear: 58%
Dimensions
Vehicle Length ……………………………………………………..4,600 mm
Vehicle Width, with mirrors ……………………………….2161 mm
Vehicle Width, with mirrors folded …………………..2,045 mm
Vehicle Width, Door Open: single (both) …………2,464 mm (2,767 mm)
Vehicle Height ……………………………………………………..1,159 mm
Vehicle Height, Door Open ………………………………..1,947 mm
Overhang, Front : Rear ………………………………………..1,105 mm : 824 mm
Wheelbase ……………………………………………………………2,670 mm
Track Front (Contact Patch Centre) ………………….1,656 mm
Track Rear (Contact Patch Centre) …………………..1,612 mm
Ramp Angle degrees (with vehicle lift) …………..6.93 (8.88) degrees
Break Over Angle …………………………………………………11.25 degrees
Departure Angle ………………………………………………….12.3 degrees
Wheel Sizes – Front: ……………………………………………19 x 8.0J inches
Wheel Sizes – Rear: ……………………………………………..20 x 11.0J inches
Tyre Sizes Inches – Front: …………………………………..245/35/R19 inches
Tyre Sizes Inches – Rear: ……………………………………305/30/R20 inches
Efficiency
EU WLTP
CO2 Emissions: Low …………………………………………….503 g/km
CO2 Emissions: Medium ……………………………………..262 g/km
CO2 Emissions: High ……………………………………………233 g/km
CO2 Emissions: Extra-high ………………………………..248 g/km
CO2 Emissions: Combined ………………………………….280 g/km
Fuel Efficiency: Low …………………………………………….22.1 L/100km
Fuel Efficiency: Medium ……………………………………..11.5 L/100km
Fuel Efficiency: High ……………………………………………10.2 L/100km
Fuel Efficiency: Extra-high …………………………………10.9 L/100km
Fuel Efficiency: Combined ………………………………….12.3 L/100km
USA EPA
Fuel Efficiency City ………………………………………………14.0 mpg
Fuel Efficiency Highway …………………………………….18.0 mpg