HondaTouch, one app to access all things Honda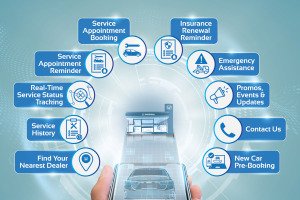 Honda Malaysia has launched the HondaTouch app . The app is for both Android and Apple iOS and gives Honda car owners access to their vehicle information, and other convenience applications, where ever they are.
The conveniences are
Service Appointment Booking
Service Appointment Reminder
Real-Time Service Status Tracking
Service History
Find Your Nearest Dealer
There is a directory of all the Honda dealers in Malaysia. Owners will be able make service appointments with their preferred service centre through the app. A confirmation of the appointment as well as reminder will be sent. During the service, the owner can monitor the progress. In addition, the car's service history is recorded in the app along with insurance information.
Safety-wise, there is a one-stop feature for Emergency Assistance. In the event of a breakdown or accident, owners can contact the roadside assistance service through the application for immediate help.
The HondaTouch app is also useful for non-Honda customers who want to find out about Promotions, events and updates on Honda vehicles. In December 2020, New Car Pre-Booking will be available for customers to place bookings without having to go into a showroom. There is also a Contact Us feature to contact Honda Malaysia.

To download the HondaTouch app, go to the Apple App Store or Google Play Store.