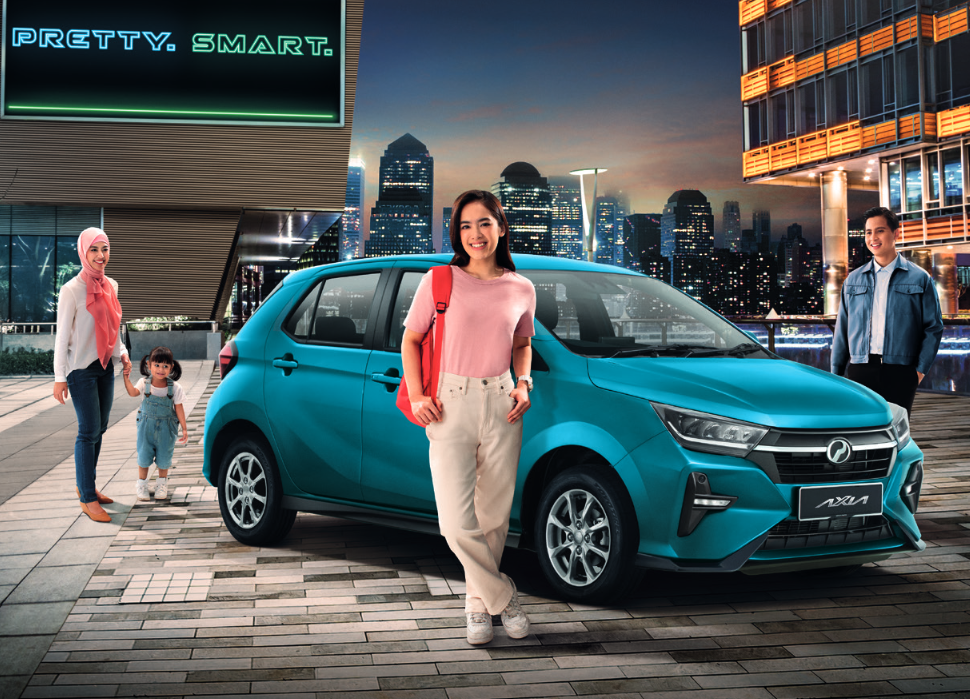 Perodua has launched the all-new Axia 2023 in Malaysia, with four different variants available at different price points. The Axia has been a popular car in Malaysia since its launch in 2014, and this new version promises to build on the strengths of its predecessor.
| Variant | Price |
| --- | --- |
| Perodua Axia 1.0L G | RM38,600 |
| Perodua Axia 1.0L X | RM40,000 |
| Perodua Axia 1.0L SE | RM44,000 |
| Perodua Axia 1.0L AV | RM49,500 |
*Prices are for Pen. M'sia, private registration, excluding insurance
Exterior
The 2023 Axia has a more aggressive and sporty look with sharper and more defined lines. It has a redesigned front grille and updated LED headlights and daytime running lights. The new taillights at the rear also add to the car's sporty and modern aesthetic.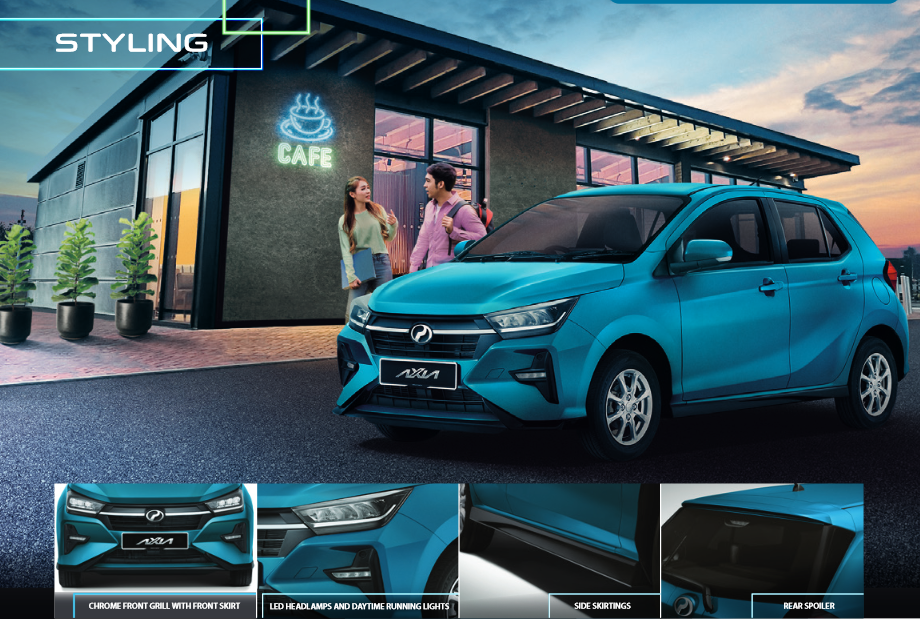 The dimensions of the new Axia are generally similar to the previous generation, but with a few differences.
| Dimension | Measurement |
| --- | --- |
| Length | 3,760mm |
| Width | 1,665mm |
| Height | 1,495mm |
| Wheelbase | 2,525mm |
| Ground clearance | 20mm increase |
Compared to the previous generation, the new Axia is longer and wider, has a slightly longer wheelbase, and a higher ground clearance, but is shorter in height.
Engine
Under the hood, the new Axia 2023 is powered by a 1.0-liter DOHC engine. The engine remains the same naturally-aspirated 1KR-VE 3-cylinder engine from the previous generation, but it's now paired with a new D-CVT automatic transmission, which is the same as on the Perodua Ativa, Perodua Myvi, and Perodua Alza. This new transmission promises better fuel consumption, making it a more efficient ride.
The D-CVT transmission enables smooth shifting that offers the responsive ride you want and the fuel economy you need to go further.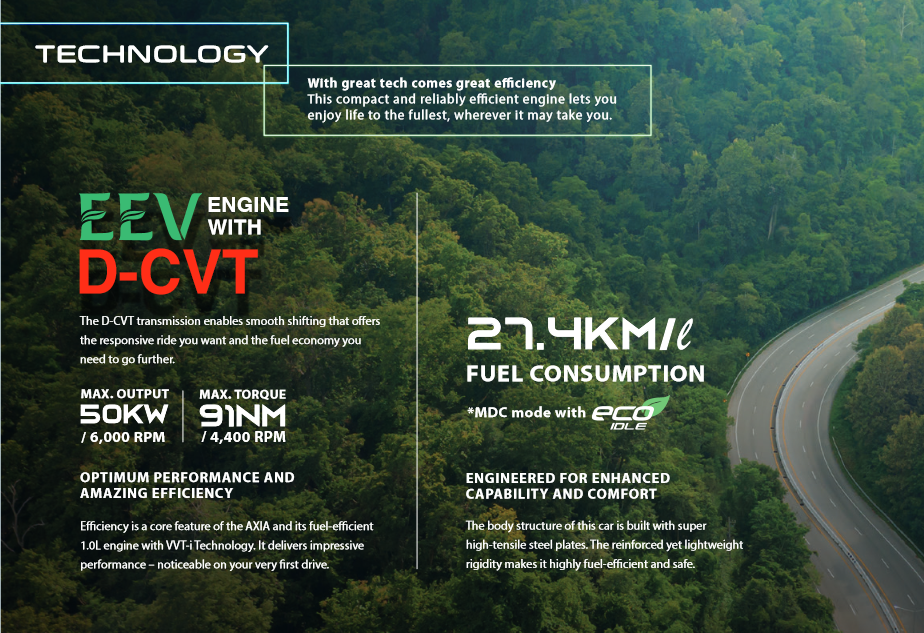 The body structure of this car is built with super high-tensile steel plates. The reinforced yet lightweight rigidity makes it highly fuel-efficient and safety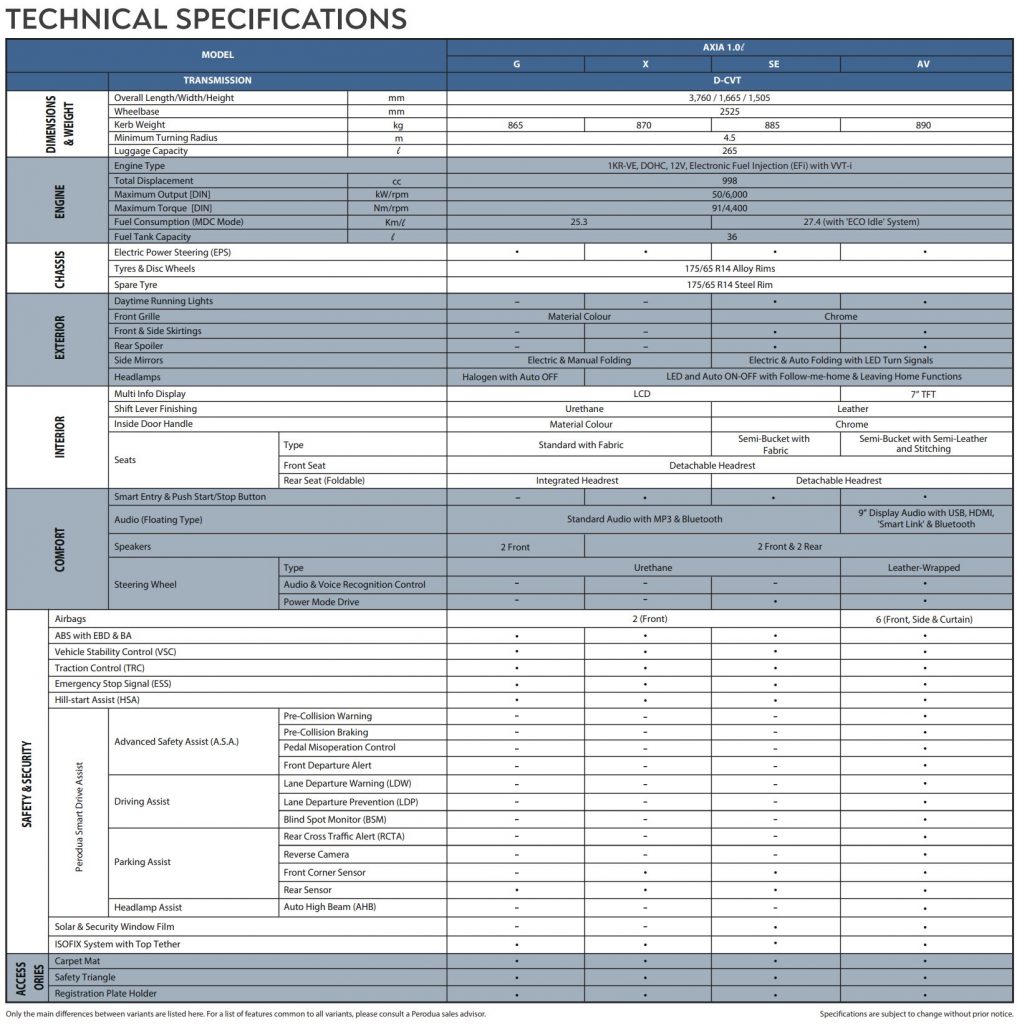 All four variants of the 2023 Perodua Axia are fitted with 14-inch rims, with minor differences between each variant. The G variant comes with halogen headlamps, while the X and SE variants have LED headlamps, with LED DRLs on the SE. The top-of-the-line AV variant has Auto High Beam safety feature.
The SE and AV variants also have the exclusive addition of front and side skirtings with a chrome front grille for added distinction. The interior of the Axia has a new horizontal theme and sporty aesthetics, with black and silver highlights. New fabric seats are available on the G, X, and SE models, with semi-leather seats on the AV variant.
Interior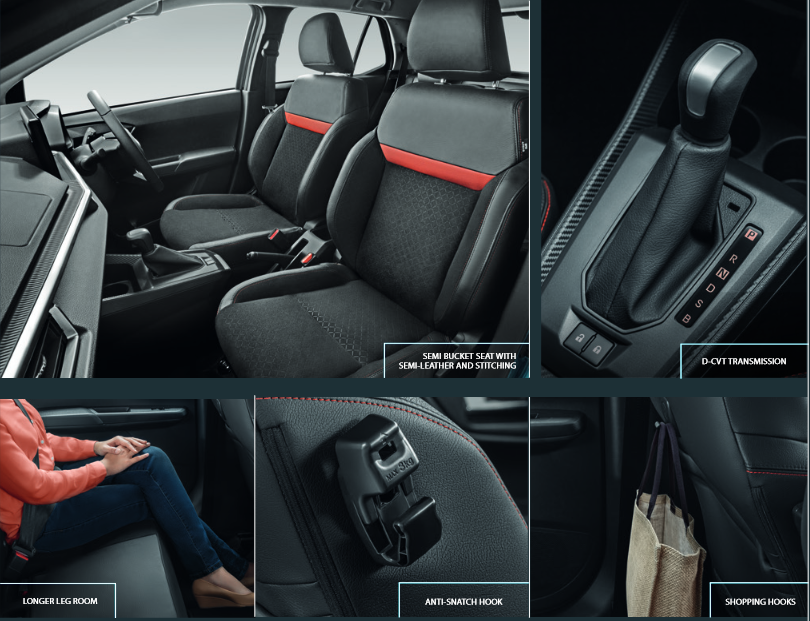 The first three variants have a 4.2-inch LCD multi-info display and a monotone instrument display, while the AV variant comes with a 9-inch LCD touchscreen and a 7-inch TFT multi-info display, along with steering switches for the Power Mode and audio controls.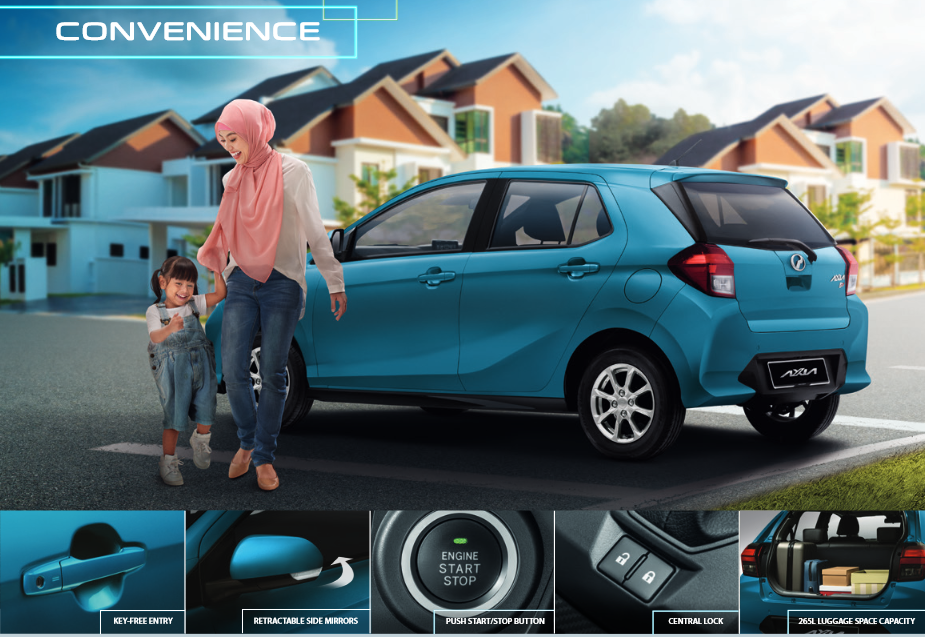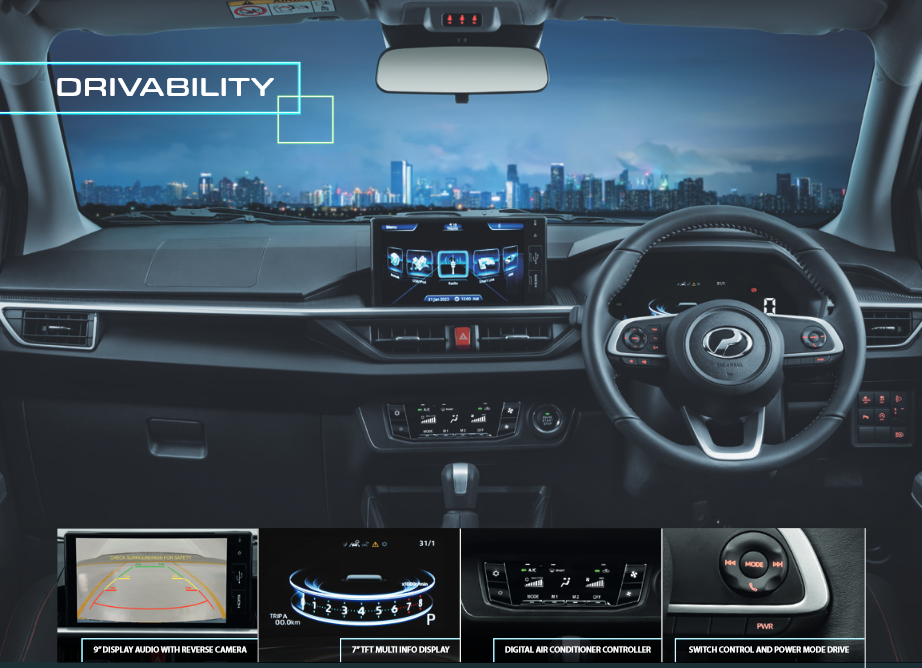 Safety features
Perodua AXIA is now bigger and better than ever before. It comes with a huge range of intelligent safety features to make every journey smooth, fun and relaxing.
| Perodua Smart Drive Assist | Functionality |
| --- | --- |
| Advanced Safety Assist | – Pre-collision Warning |
| | – Pre-collision Braking |
| | – Front Departure Alert |
| | – Pedal Misoperation Control |
| Driving Assist | – Lane Departure Warning (LDW) |
| | – Lane Departure Prevention (LDP) |
| | – Blind Spot Monitor (BSM)* |
| Parking Assist | – Front Corner Sensor** |
| | – Rear Sensor |
| | – Reverse Camera* |
| | – Rear Cross Traffic Alert (RCTA)* |
| Headlamp Assist | – Auto High Beam (AHB)* |
| Passive safety features | – 6 Airbags (front,side,curtain)* |
| | – HSA (Hill-start Assist) |
| | – ESS (Emergency stop signal) |
| | – VSC (vehicle stability control) |
| | – TRC (traction control) |
| | – ABS & EBD (with BA) |
| | – ISOFIX child seat anchors |
*AV variant only. **X, SE and AV variants only
All Axia variants come with ABS with EBD and BA, Vehicle Stability Control, and two airbags, while the X variant and above have Smart entry and push-start button with front corner sensors.
The AV variant gets additional safety features, such as Lane Departure Warning & Prevention, Blind Spot Monitor, and Rear Cross Traffic Alert, to enhance its Advance Safety Assist package, making it the safest variant of the Axia.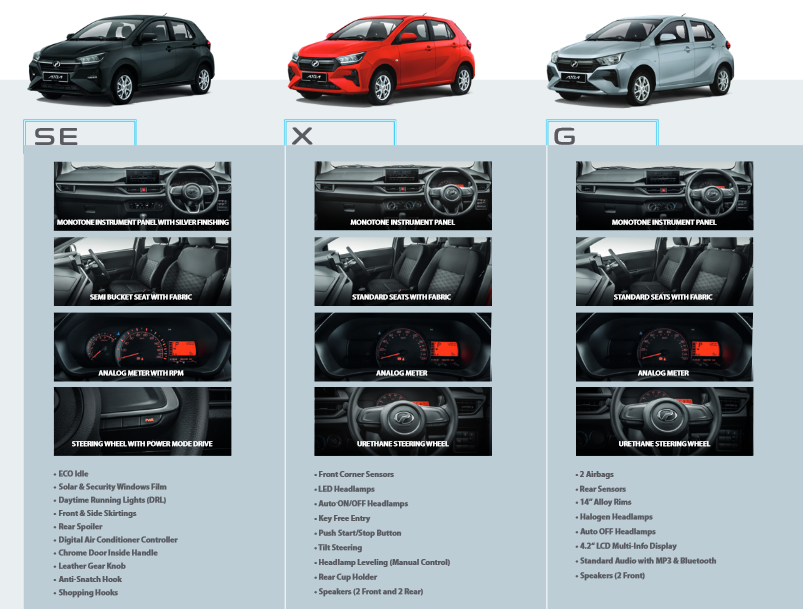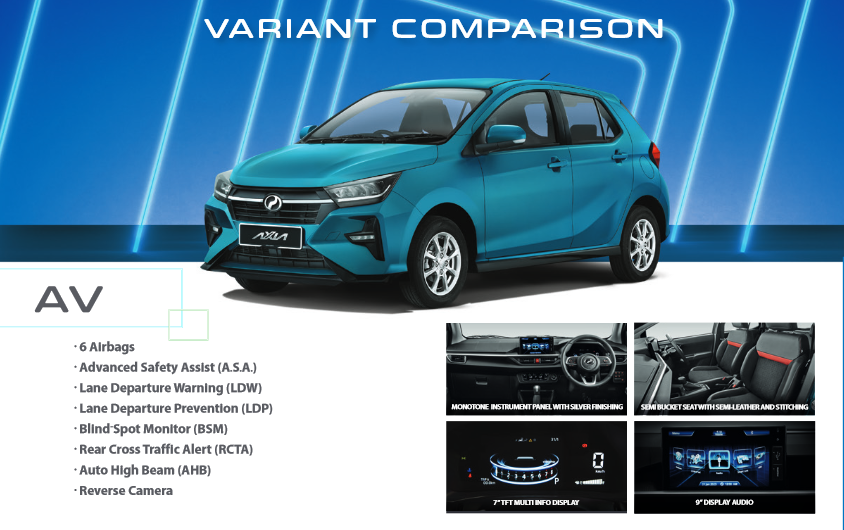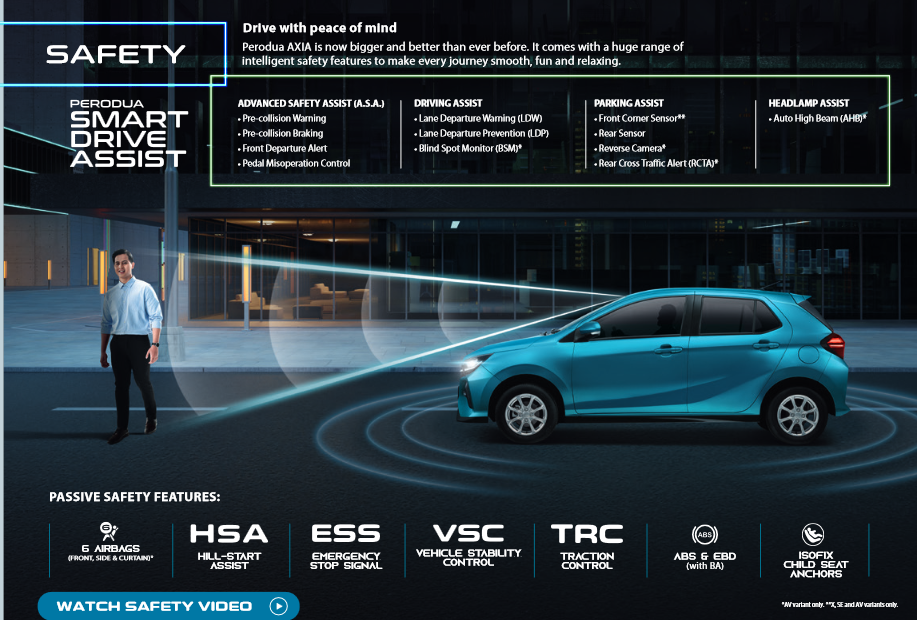 If you are interest to look for the 2023 Perodua Axia for sales, click this link to find out more.
History of Perodua Axia
Perodua, the Malaysian automobile manufacturer, produces the subcompact car known as the Axia. They introduced it in 2014, and it quickly became one of the most popular cars in Malaysia due to its affordability, fuel efficiency, and practicality.
In the late 2000s, the Malaysian government announced plans to promote the development of a national car industry. They tasked Perodua, which was already the second-largest carmaker in the country, with developing a small and affordable car that could compete with other budget models in the Malaysian market. This led to the creation of the Perodua Axia."
Perodua Axia 2014
In 2014, Perodua launched the Axia as its entry-level model. It was designed to be a practical and affordable car that would appeal to first-time car buyers and budget-conscious customers. The Axia was based on the Toyota Agya, a subcompact car that is sold in Indonesia, but it was modified to meet the specific needs of the Malaysian market.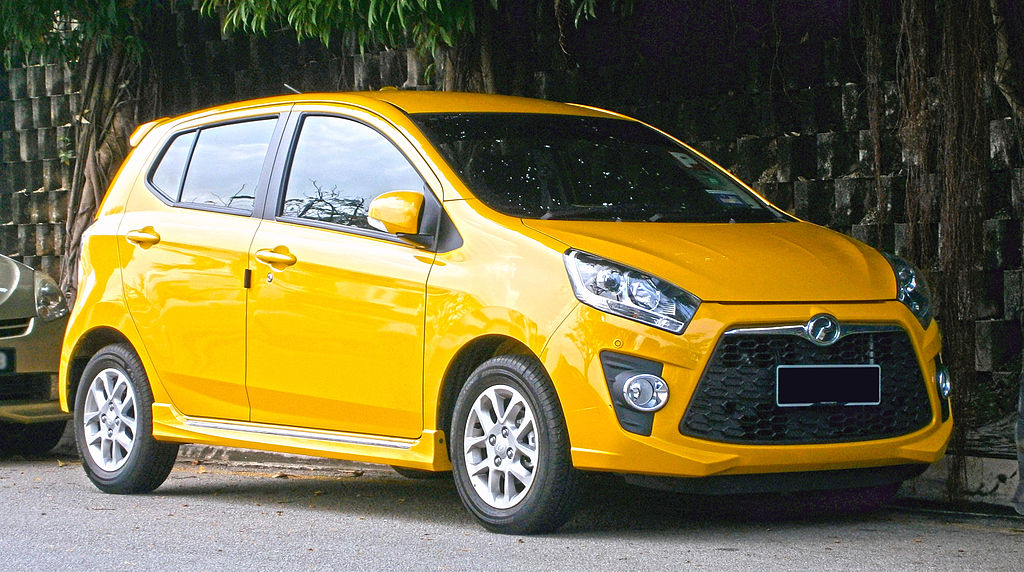 The first-generation Axia had a 1.0-liter three-cylinder engine that produced 67 horsepower. It offered a choice of manual or automatic transmission and had four different trim levels. Additionally, the Axia included several safety features such as anti-lock brakes, electronic stability control, and dual front airbags.
* You can go to this link if you are looking for Used Perodua Axia 2014 for sales
Perodua Axia 2017
In 2017, Perodua introduced an updated version of the Axia with a number of new features, including a redesigned front bumper, a new instrument cluster, and improved fuel efficiency. The updated model also came with a new safety package that included autonomous emergency braking and a lane departure warning system.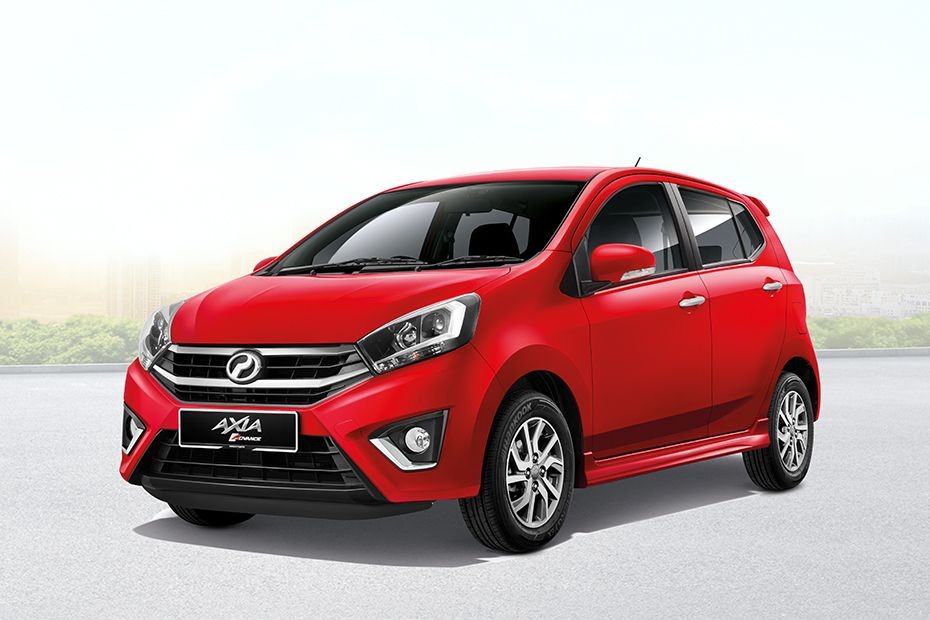 The Perodua Axia has been a huge success for the company and has consistently been one of the best-selling cars in Malaysia since its introduction. Its affordability, fuel efficiency, and practicality have made it a popular choice for first-time car buyers and budget-conscious customers. The Axia has also helped to establish Perodua as one of the leading car manufacturers in Malaysia, and the company continues to produce high-quality cars that are popular both domestically and internationally.
* You can go to this link if you are looking for Used Perodua Axia 2017 for sales
Perodua Axia Vs. Myvi, what is their differents? Read more here.
Klik SINI untuk perbaharui insurans kereta anda dengan GoInsuran.
Gunakan Promo code ini untuk dapatkan 4% discount : GOMOTOR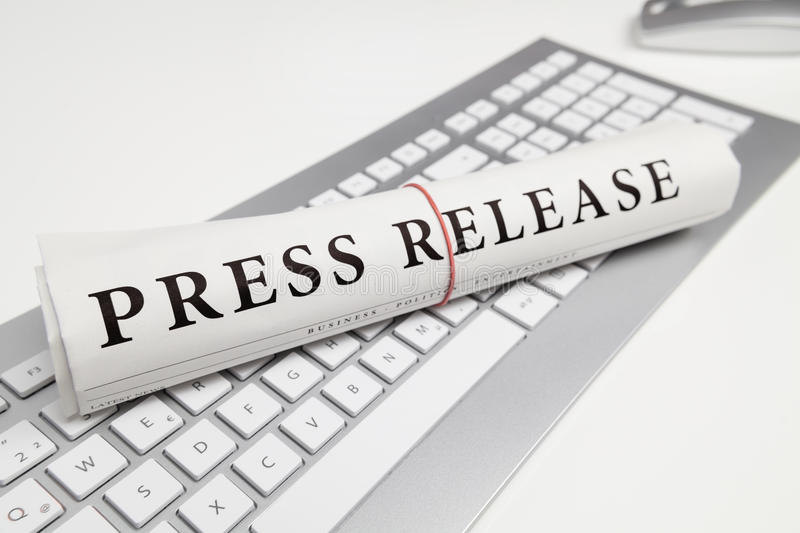 Submitting your news to Motortrader.com.my is easy. Simply send an email to [email protected] with your press release or announcement attached as a Word or PDF document. Please include your contact information and any relevant images or videos that you would like to accompany your news.