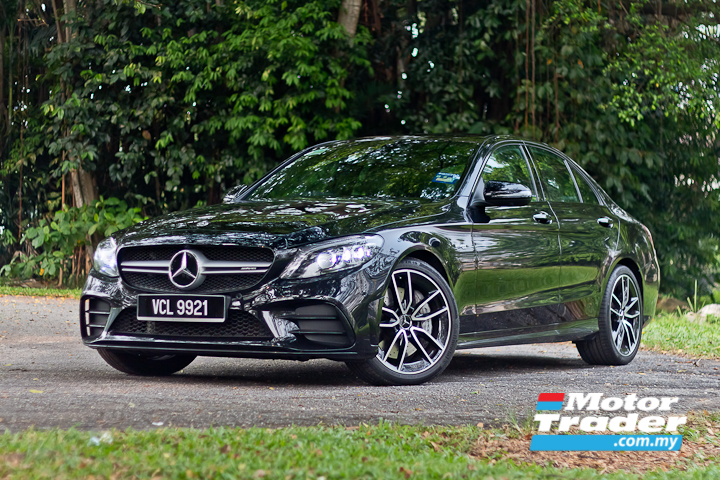 The Mercedes-AMG C 43 may look like an everyday C-Class but what lurks beneath is far from ordinary. It has useful performance with daily driving civility and practicality all in one sensible package.
I discovered not too long ago, last Sunday in fact, that the Mercedes-AMG C 43 blended in with the other C-Class saloons in the basement parking lot that day. It's not a complaint and not a rant at all. I think it's a good thing, why? Because what lurks beneath is serious sportscar performance clad in the most innocuous-looking body.
No one is going to know. Sneaky. Placed between the C 300 and the C 63 AMG, the Mercedes-AMG C 43 is an in-between sort of car. Sure, there are also C-Class' that comes with the AMG body treatment like on the C 300. But this somehow made the C 43 blend a little better in the crowd. It's a sleeper and I love it!
The looks of the Mercedes-AMG C 43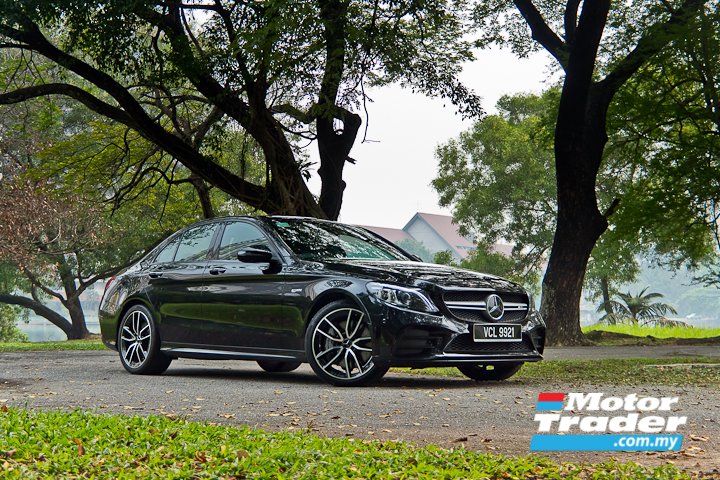 It's not as loud and distinctive like its bigger 63 siblings. The C 43 resembles more of the run-of-the-mill C-Class saloon, but it takes a keen eye to spot the C 43 out of the rest. This may sound like a mycology class, but this helps to spot one out in the wild.
First things first, the C 43 comes with its signature AMG grille with twin louvres sans the diamonds. Then the wheels, 19-inch two-tone alloy wheels which are new for the AMG range of cars. The biggest giveaway is the brakes; silver 4-piston AMG monobloc callipers and beefy 360mm steel discs at the front and 1-piston floating calliper and 320mm steel discs at the rear.
At its rump, the C 43 features twin round tailpipes, a rear diffuser and a spoiler lip. Besides that, the 'AMG', 'C 43', and 'Biturbo 4Matic' badging are there let you know that this thing is fast. Next.
Living quarters of the Mercedes-AMG C 43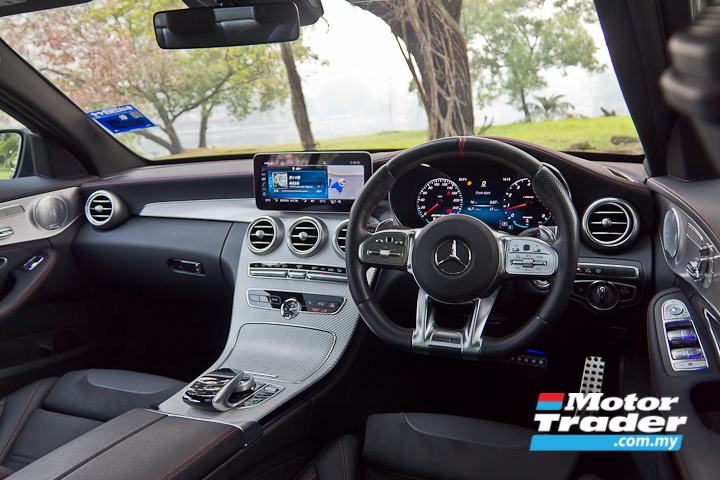 Of course, with cool amounts of money, comes the premium experience. There are no hard and jagged edges seen and touched. It's what you can expect for a car in this price range. And It feels almost as if you're sitting in a really huge bean bag.
What's new in the midlife refreshed C 43 is the new "digital cockpit", which features a 12.3-inch digital cluster and 10.25-inch infotainment display. Despite the larger screen, the refreshed C-Class family still runs on the old COMAND system than the latest MBUX software. However, this is also where the refreshed C 43 gets new features as well. More on that soon.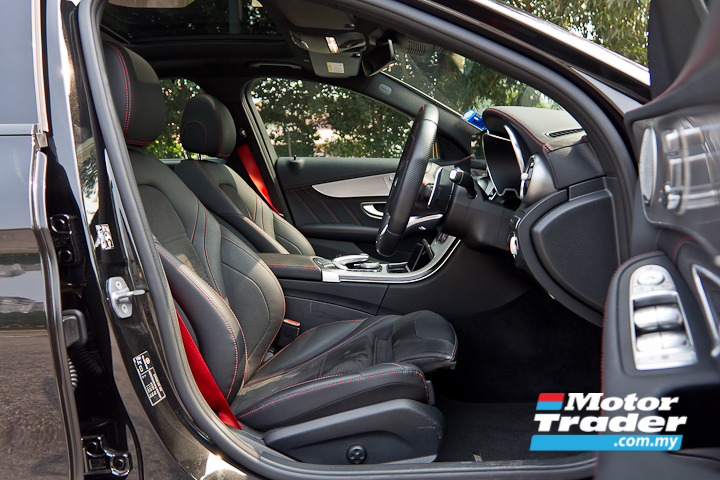 The front occupants, namely the driver and passenger get to sit on 14-way electronically adjustable seats with 3 memory presets. With the seat controls on the door cards rather than at the bottom side of the seats does make it much easier to adjust each to their own bodies on the fly.
Having long legs, adjustable thigh support is my favourite feature of these seats. The front seats are comfortable for long distant journeys, however, lateral support is much to be desired for smaller-sized individuals.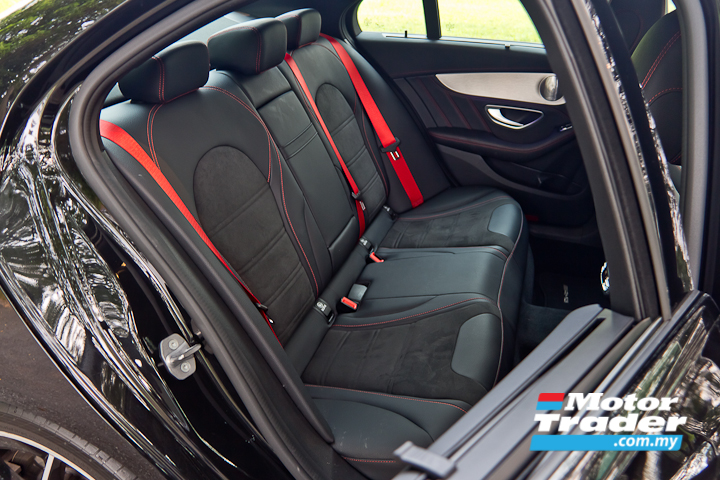 Being near 1.7 metres in height, the rear seats can accommodate with plenty of head and legroom. Likewise, the rear seats can accommodate two adults with plenty of lateral space, while sitting three abreast is pushing it slightly. If there's only two in the back, the C 43 features a foldable armrest with two pop-out cup holders and a storage compartment for added convenience.
How good is the Mercedes-AMG C 43's entertainment system?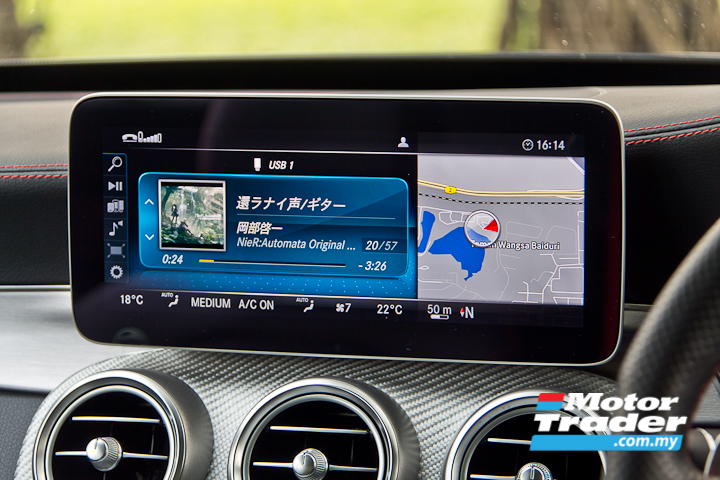 The 10.25-inch display offers clear and crisp graphics with a much bigger acreage. The interface is pretty easy to navigate around and it's a quite a learning curve for those who are new to the COMAND system. This comes with Android Auto and Apple CarPlay as standard, which makes navigating through the smartphone without ever having to touch it while driving. In addition, the updated C-Class' parts are 50% new. Moreover, 80% of its electrical architecture is likewise new.
From having just three hues to choose in the pre-refreshed model, the updated Mercedes-AMG C 43 now gets 64 colours to choose for the interior mood lighting.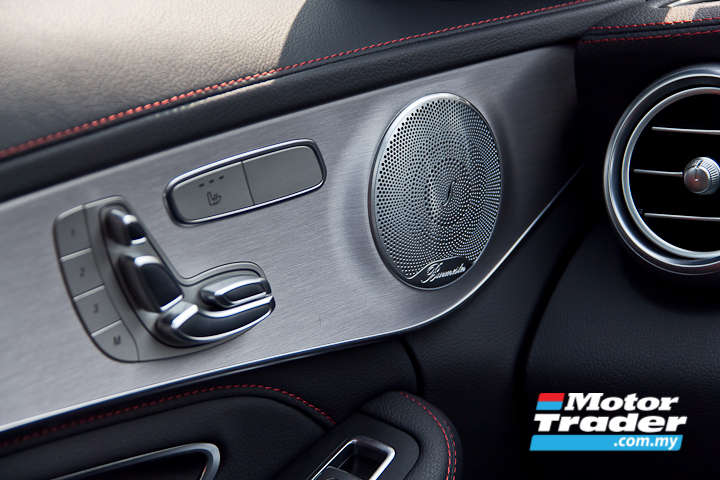 Now, how does it fare when it comes to sound replication? The Burmester suite consists of 13 heavy-duty loudspeakers and a 9-channel DSP amplifier with 590 watts of total output power. Despite lacking a CD player, the COMAND system has other sources in the form of Bluetooth streaming, FM radio, USB, Micro SD and via Apple CarPlay and Android Auto.
If its high fidelity you're after, the COMAND system reads WMA, MP3, and lossless FLAC audio files. Tested with the latter file format, the Burmester system has been much improved over the pre-facelift model. It's now richer, the bass has more punch and much-improved clarity bringing out the small nuances out in the open even in its default setting.
The C 43 also comes with the 360-degree cameras which does help much in navigating through tight pathways and into parking spots.
Is the Mercedes-AMG C 43 practical?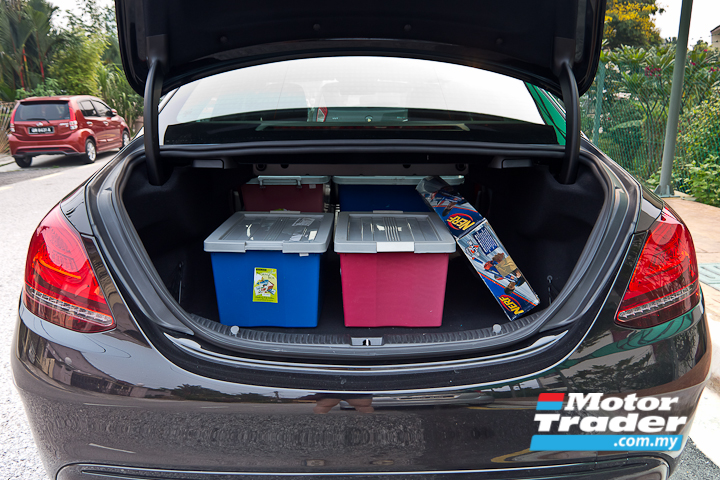 The C-Class' interior is a refined practical space. There's are deep cubbies, storage spaces, deep door pockets and two cup holders for each person assuming there are four people inside.
By default, the rear trunk space of the Mercedes-AMG C 43 measures in at 480-litres, and folding the 60:40 rear backrests down frees up additional room. If there are only long items to lug around, the centre backrest can be folded down alone without sacrificing a passenger. I'm happy to report that during the road test, the C 43 managed to accommodate large boxes and items without any problems.
The C 43 drivetrain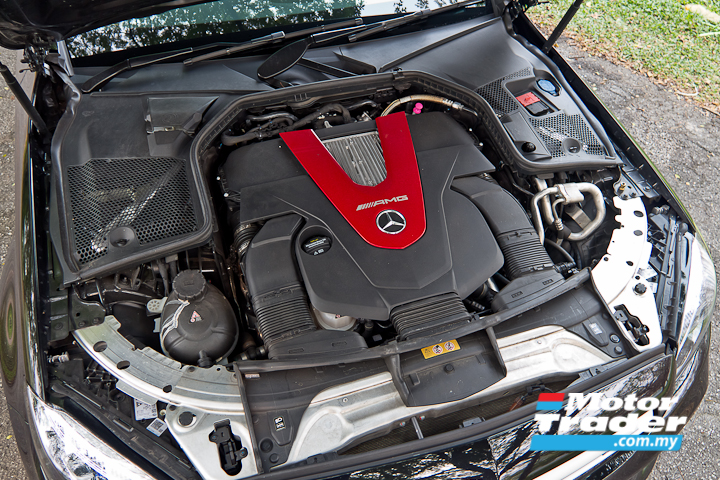 The heart of the Mercedes-AMG C 43 is a 2,996 cc twin-turbocharged 24-valve V6 with direct injection. It makes 385 Hp at 5,500 – 6,000 rpm and 520 Nm of torque at 2,000 to 4,200 rpm. Even here, the engine had seen a power hike from 362 Hp, however, the torque figure remains the same.
Mated to the V6 engine is the brand's in-house 9G Tronic Plus AMG Speedshift automatic transmission. From here, power is sent to all four wheels via its 4Matic all-wheel-drive system, which splits power 31% to the front and 69% to the rear.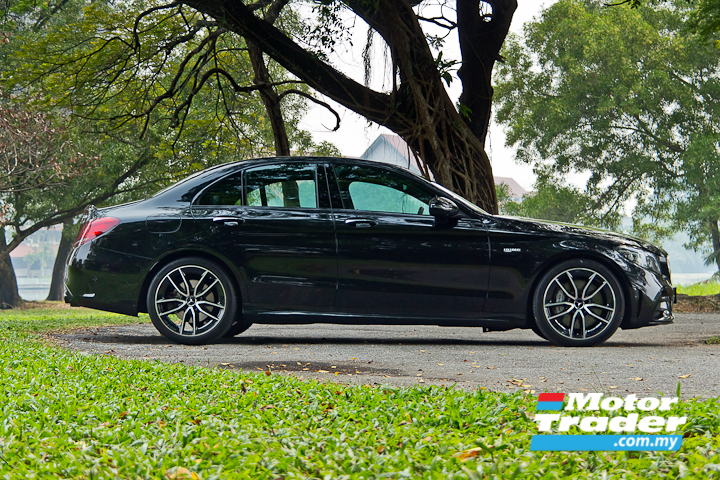 According to Mercedes-Benz, the C 43's combined fuel consumption is 9.3 – 9.1 l/100 km (10.7 – 10.9 km/l). Driven on Malaysian roads, the C 43 did*:
14.5 l/100 km (6.8 km/l) Urban [moderate traffic],
6.7 Km/L (14.9 km/l) Highway [conservative cruising speeds],
12.1 Km/L (8.2 km/l) Combined [including hard acceleration].
*As tested. Fuel consumption can vary from person to person and depending on the type of journey and traffic conditions.
The Mercedes-AMG C 43 as tested comes fitted with Continental ContiSportContact 5P of staggered sizes. The fronts are 225/40 ZR 19 and the rears are 255/35 ZR 19.
What's it like to drive?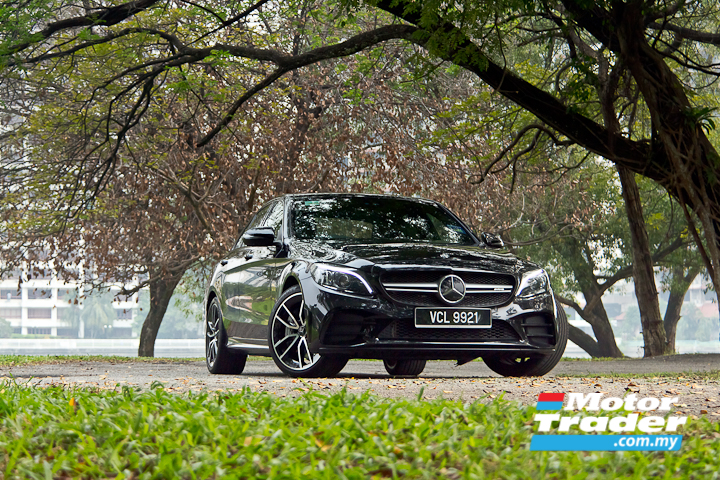 The Mercedes-AMG C 43 is quite easy to drive around in cities and towns. With maximum torque available at lower engine speeds, the C 43 can get up to speed without much effort, almost imperceptible. Even in 9th gear, the 3-litre engine is still able to move the 1.7-tonne body to higher cruising speeds without much effort.
Making U-turns isn't much of an issue anymore as the front differentials don't lock up as aggressively as in the previous version. This means that going the other way around won't take up too much road on the other side.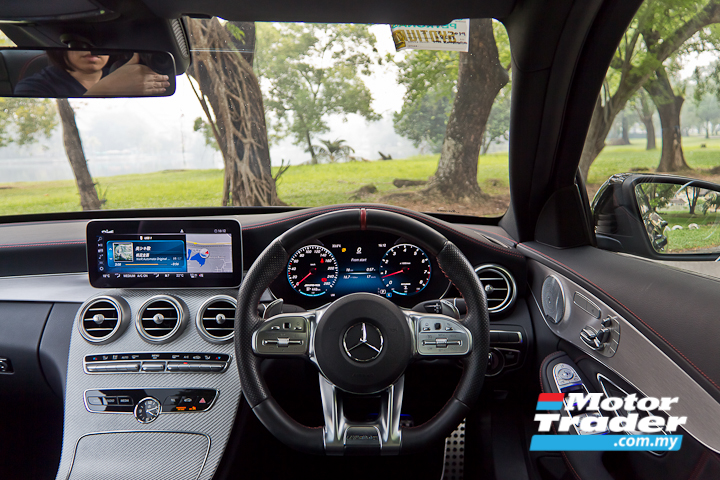 There are no issues with blindspots and the visibility ahead and around is almost unobstructed. Almost meaning that the driver side wing mirror does get in the way when looking out for curbs. Other than that, the driving ergonomics is spot on; buttons and dials on the swopping centre console are within reach. And drivers of many sizes can find their happy places thanks to the 14-way adjustable seats and the tilt and telescopic adjustable steering column.
When driving in pitch darkness, the MULTIBEAM adaptive LED headlamps provide a wide coverage ahead. Each cluster features a grid module of 84 LED chips. This provides selective illumination ahead without blinding the driver ahead and oncoming traffic. Basically, just push the left signal stalk forwards and drive.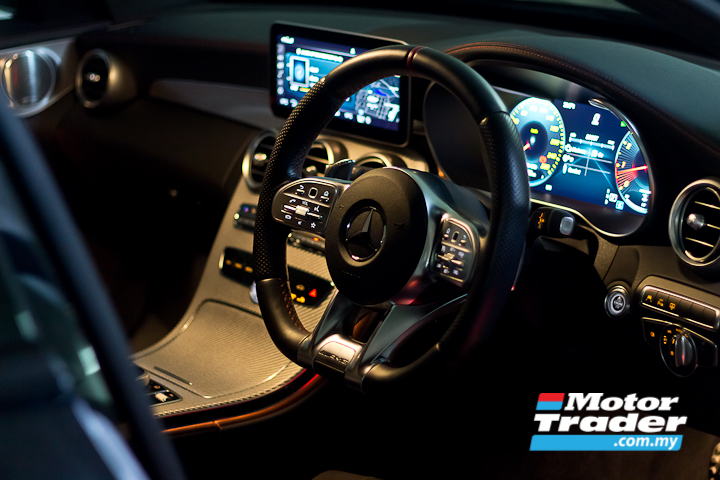 Also, it's the little things that make a big difference. The seat belt height is adjustable even when sitting down low close to the car's floor. And the adjustable thigh support provides elevation to reduce the strain on the ankles and knees.
The ride quality and refinement have been massively revised. This time when driving in Comfort mode, the C 43's adaptive dampers are able to provide a good amount of vibration isolation over rough road surfaces with a hint of relaxing float. In Sport, the dampers become firmer, yet offers a good balance between body control and comfort. In Sport + everything firms up to prioritise body control.
How does it handle when driven spiritedly?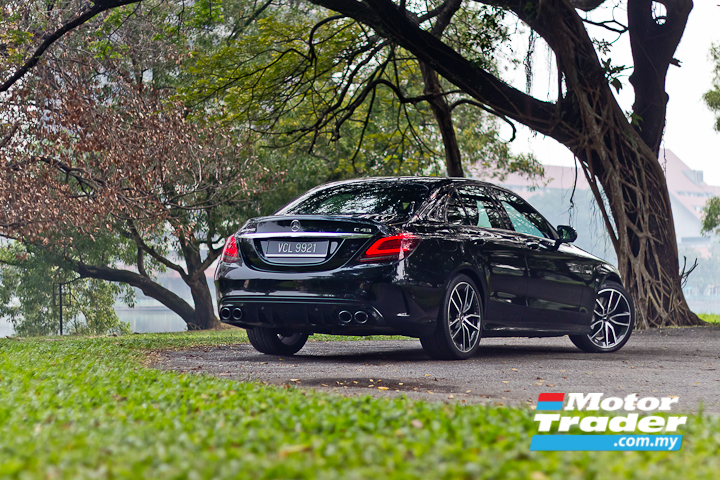 Short answer: It's a weapon. Very sportscar-like.
Long answer: With the 4Matic's 31/69% torque split, it gives the Mercedes the feel and balance of a rear-wheel-drive car with the traction and security of an all-wheel-drive car. You can coax the C 43 into subtle slips of oversteer out of slower bends, in the dry at least, and the transmission quickly does its thing and launches you into the next bend. There's an abundant of grip too, it refuses to understeer even in tight corners. As tested, the C 43 is able to pull 1.3 lateral Gs.
Although the steering feel isn't the last word in feedback, it is direct and well-weighted, particularly in Comfort mode, which you can expect to change individual parameters in the Individual driving mode. The brakes do offer plenty of bite and can take quite a punishing, but could do better with a little more resistance.
Should you get one?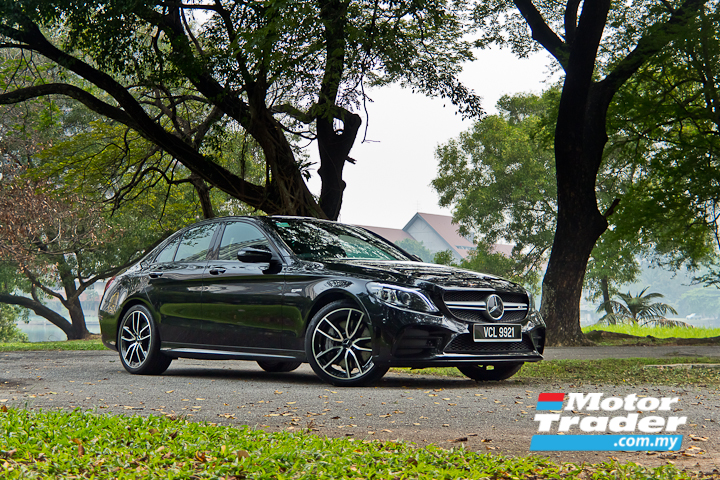 Locally-assembled, the facelifted Mercedes-AMG C 43 costs RM421,888 OTR sans insurance. This version is not only much improved but cheaper than the previous CBU version by a whopping RM78,000. With four doors, two rows of seats and plenty of performance capability beneath. The C 43 is great if you're looking for outright performance and everyday drivability all in one package.
Being fast and agile when the mood takes, yet being comfortable and refined when it doesn't. The C 43 feels just right on Malaysian roads than the all guns ablaze C 63. The coupe is desirable too, but it's the four door's stealthiness makes the most sense.
Breena Au
Mercedes-AMG C 43 Specification
Price RM421,888
On sale Now
Engine V6, 2,996cc, twin-turbocharged, petrol
Power 385hp @ 5,500 – 6,000rpm
Torque 520 Nm @ 2,000 to 4,200 rpm
Gearbox 9-spd automatic
Kerb weight 1,675kg
Top speed 250 km/h
0-100km/h 4.7sec
Looking for a Mercedes-Benz? Check out listings for Mercedes-Benz cars here. List your car or bike to sell here.