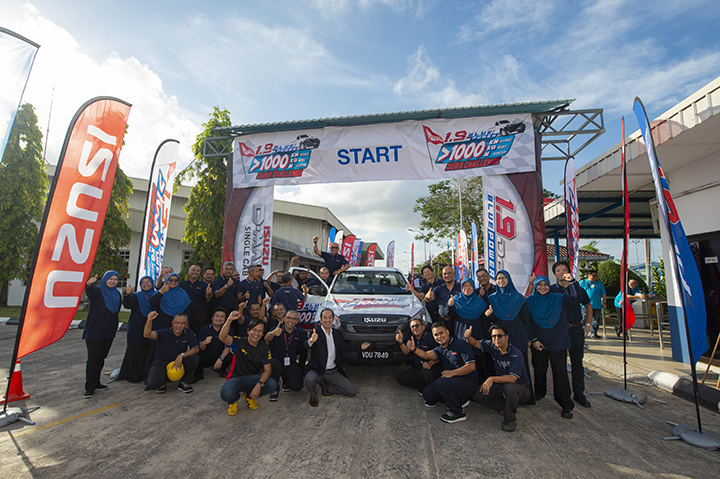 Isuzu Malaysia drove a D-Max Single Cab pick-up truck over 1,000 km through the Titiwangsa Mountain Range with a one-tonne payload on its back, yet finishing with an ample amount of fuel left.
Previously having successfully finished an epic road trip from Bangkok to Singapore with an Isuzu D-Max, Isuzu Malaysia has pushed the ante further by driving the Isuzu D-Max 1.9 Blue Power Single Cab over 1,000 km through the Titiwangsa Mountain Range with a one-tonne payload strapped to its back in the Isuzu D-Max 1.9 Blue Power Dura Challenge.
Before setting away on its epic trip to the mountain range, the Isuzu D-Max 1.9 Blue Power Single Cab had to be thoroughly inspected by Puspakom for road legality and verification to make doubly sure that it's not a heavily modified vehicle. After the inspectors had given them the green light, the Isuzu D-Max 1.9 Blue Power Single Cab test unit was then loaded up with payload weighing at a 1,000 kg.
Soon after, the Isuzu D-Max Single Cab then headed up north for its first challenge, a drive on the East-West highway linking Jeli in Kelantan and Gerik in Perak with a climb to the peak of 1,052m before heading to Ipoh for the night.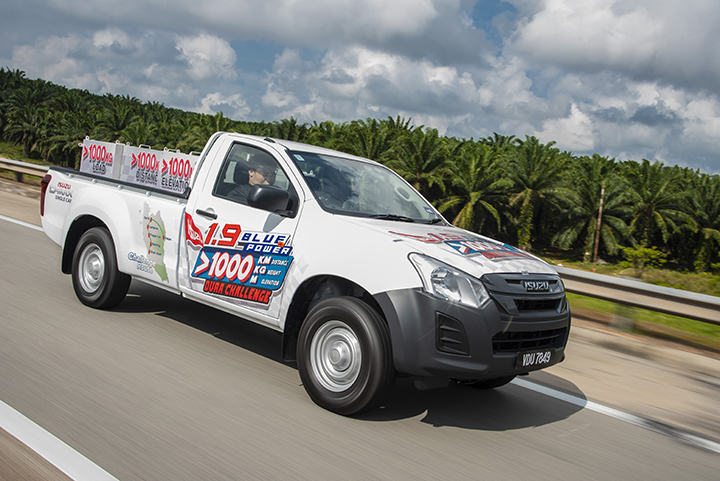 The next day, the Single Cab then climbed up to 1,112 metres to Tanah Rata in Cameron Highlands before climbing an additional 110m on to Fraser's Hill via Raub. From there, the journey then took the lone Single Cab a 1,604 m-high climb up to Genting Highlands before concluding the journey at the Isuzu Service Centre in Shah Alam clocking 1,145km.
The Isuzu D-Max 1.9 Blue Power Single Cab consumed an average of just 7.3 L/100 km (13.7km/L) based on the reading from its on-board computer and with an ample fuel left to spare in its 76-litre fuel tank.
Through advanced technology, the new 1.9-litre RZ4E-TC engine is by far the most fuel-efficient engine ever produced by Isuzu Motors and this was demonstrated in this exercise. Perhaps some vehicles can travel long distances on a tank of fuel, some can probably manage to carry a ton of weight or climb mountains. But to achieve all three criteria with one vehicle is a true feat of a competent vehicle,

Koji Nakamura, CEO of Isuzu Malaysia
Replacing the old 2.5-litre engine, the new RZ4E-TC 1.9-litre VGS (Variable Geometry System) turbodiesel engine features Molybdenum coated fuel injectors and graphite coated pistons help to reduce friction, withstand higher pressures and temperatures, prevent cold-start engine wear.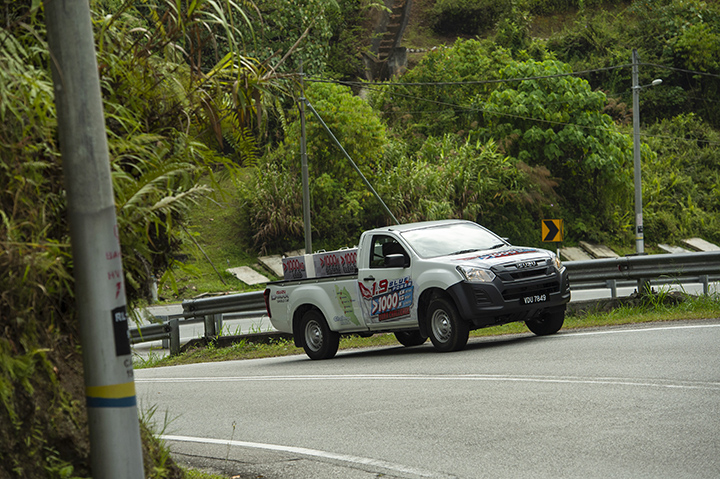 Moreover, the new engine features a novel combustion chamber and intake manifold design, a new fuel injection system that provides more accurate fuel atomization and a newly-developed Variable Geometry (VGS) Turbocharger that delivers better engine response over a wider rev range.
Along with many other technical firsts, the compact turbodiesel engine makes 148 bhp at 3,600 rpm and 350 Nm of torque between 1,800 and 2,600 rpm. 10% and 9% improvement respectively over the outgoing 2.5-litre engine.
All Isuzu D-Max models including the 1.9-litre Single Cab come with a 5-year 150,000km warranty, ensuring that owners enjoy an ownership experience that enables them to enjoy the most of their dependable and efficient Isuzu pick-up trucks.