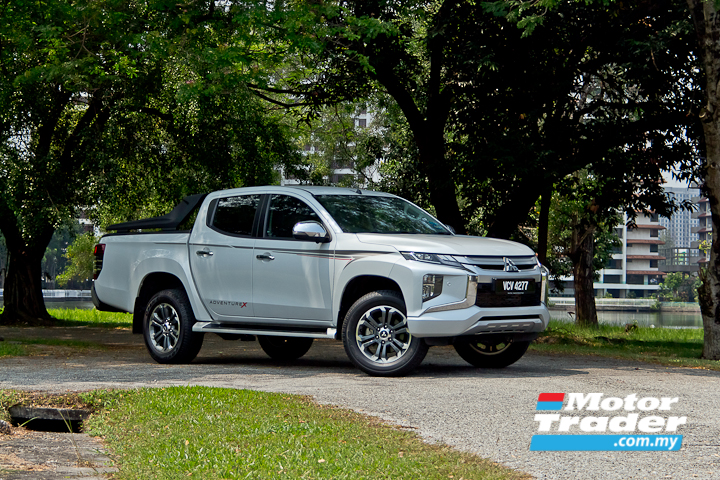 The 2019 Mitsubishi Triton Adventure X is a pickup truck that possesses the comforts of a C-segment saloon with SUV-like driving characteristics
If you're old enough to remember that back in the day, 4×4 are seen as utility vehicles used mostly by contractors or engineers who go deep in far-off places over rough terrain. But with more SUVs coming into existence with the growing adoption demand from well-to-do individuals, the existence of ultra-luxury SUVs like the Rolls-Royce Cullinan and the ultra-high performance Lamborghini Urus SUV is inevitable.
The pickup truck is in the midst of change, from being utility-focused vehicles to lifestyle products for the modern urban individual. In this review, we could see that trend is heading towards that direction. Trucks like the Mitsubishi Triton Adventure X has all of the features which you'll find in many mainstream passenger cars.
What is it?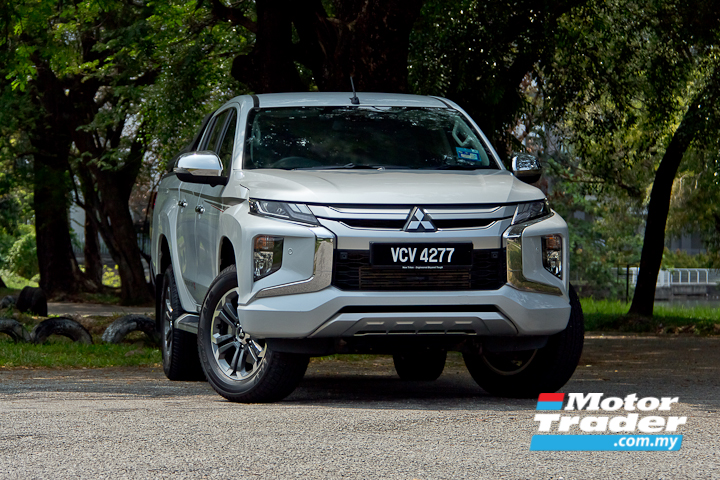 The Mitsubishi Triton Adventure X is a 5.3-metre long, 1.9-tonne truck capable of taking on whichever role the driver hands to it. The midlife refreshed fifth-generation Triton gets a whole new front and rear design treatment, which looks very untypical and quite refreshing in this segment.
The headlights may look tiny in comparison with many trucks in the segment, but they house powerful bi-LED projector headlamps which do provide a pretty impressive light coverage on the road ahead. Likewise, these headlights do have an adaptive high beam when things get a little too dark. In the lower trim levels illumination comes from Halogen lamps in the same compact size without sacrificing brightness. It shows how Mitsubishi manages to push projector headlight design up to a new level.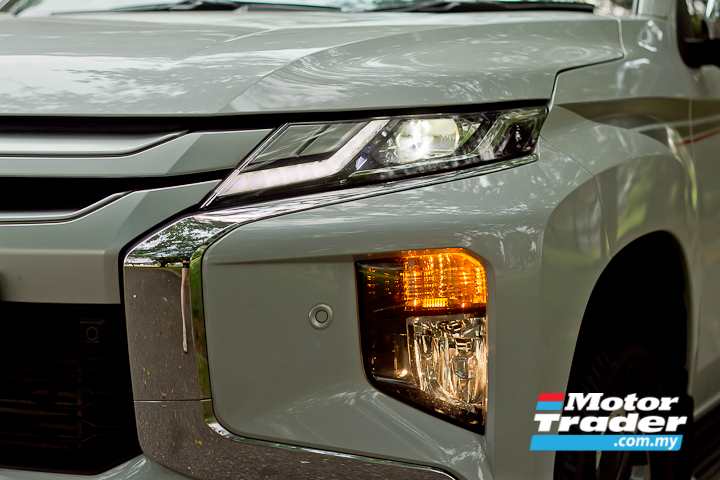 But still, for pick-up trucks, there's a limitation when it comes to the possibility of designing the rear combination lights due to the rear tailgate. On the facelift model, the units get LED signature lighting and bulbs all the way.
Other than that, the top Adventure X trim gets side steps, Front Dynamic Shield Design in chrome, chrome door mirrors and chrome door handles and tailgate like on the Premium trim levels, however, only the apex trim doesn't get the rear step bumper. This version also gets the 18-inch dual-tone alloy wheels. In addition, the range-topper gets the Flying Sports Bar.
The interior of the Mitsubishi Triton Adventure X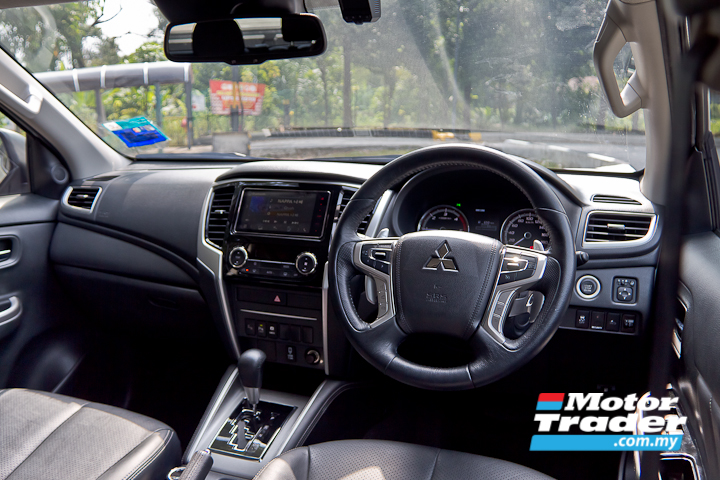 Unlike the exterior, the interior hasn't changed much over the pre-facelifted model, which the centre stack air vents is now shorter and features a trim that encapsulates and runs down to join the lower centre console. And the door cards' elbow pads now come with stitches which adds some flair in the interior. Likewise, the lower centre console gets leatherette kneepads. In the range-topping Adventure X trim, the steering column gets aluminium paddle shifters.
Stepping inside is when you'll begin to notice that things are not as utilitarian as in older and much older Triton models from the past. The seats are now more passenger car-like; they are wide and plush, and adjusting the 8-way power-adjustable leatherette driver seats all the way down makes the line between car and truck much fuzzier. Even more, the steering column is both reach and height-adjustable is a highly welcomed feature in the Triton. The front passenger seat is manually adjustable.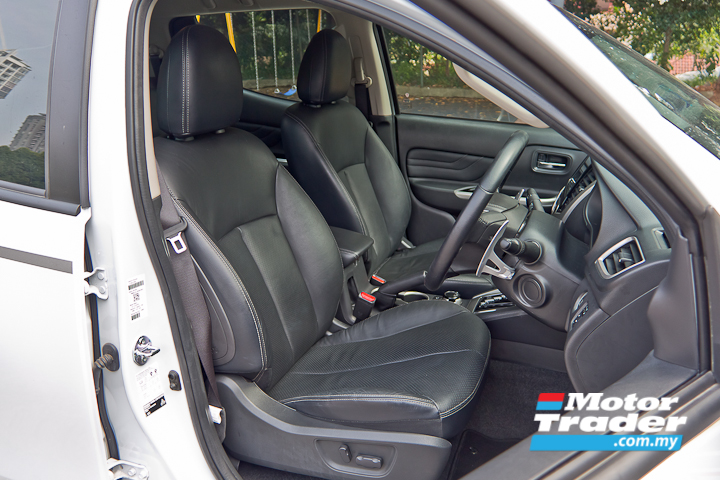 The rear bench is able to sit three abreast, or two much comfortably over long distances. Also, another car-like feature is that it comes with a foldable centre armrest with two additional cup holders. For young families with an infant or young children, the rear bench comes with ISOFIX anchor points as standard. Head and legroom are adequate for average-sized individuals here.
While we're still here, another highlight of the Triton Adventure X is that it comes with an air circulator and separate air vents. air ventilation intensity can be adjusted individually just for the rear passengers. What I personally like the most is the air deflectors; they're simple plastic flaps but does the job. Minimalism at work.
The Mitsubishi Triton's practically and usability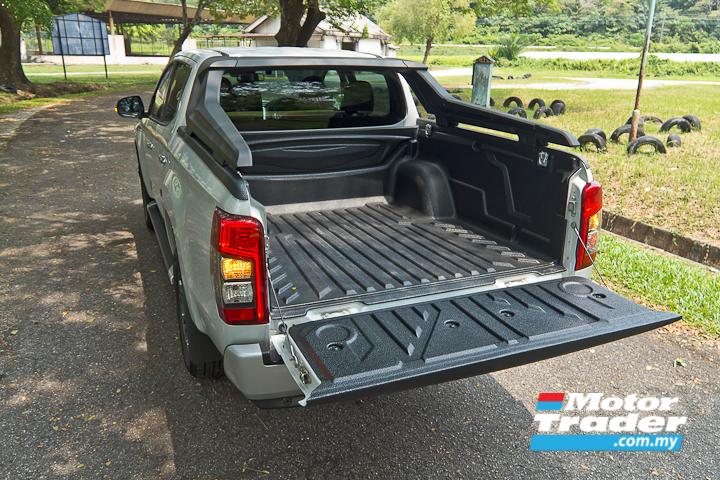 Is it practical? Very. You'll find deep cubbies, door pockets large enough to fit a 0.75 ml Thermos flask, and cup holders inside. And for many modern motorists, the Triton comes with three USB sockets one at the front and two at the rear. Also, there's also a cubby that is able to store charging smartphones at the back.
Deck space? The Mitsubishi Triton rear deck measures in at 1,520 mm in length, 1,470 mm in width, and 47 mm in height.
Infotainment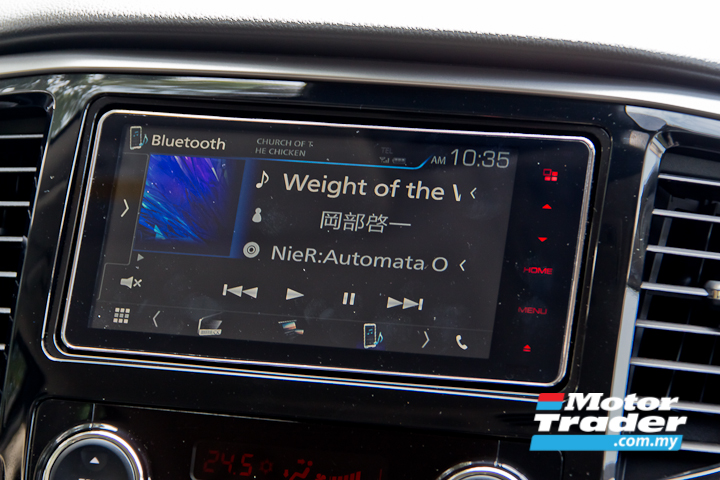 All of the drivers' infotainment needs comes from the 6.5-inch colour touchscreen that plays CD, MP3 (this test unit plays lossless FLAC files too!), USB, Bluetooth audio streaming and telephony, and voice command system with Apple CarPlay & Android Auto ready. Sound reproduction comes from six loudspeakers.
Sound quality is pretty good for a pickup truck, and if you're not too fussy on sound quality, it'll do just fine. If you are, then it's pretty close to a mid-range computer desktop speaker system. To be more exact, it has clarity but sounds muddy in default. The good thing is that the head unit does provide advanced settings to tinker with.
The touchscreen relays clear visuals not only from the rearview camera but from the other three located beneath the wing mirrors and at the front grille. These images are stitched together to form a bird's eye view, which is a big help when navigating through tight spots. A must-have if you're going to use the Triton in cities and towns.
Drivetrain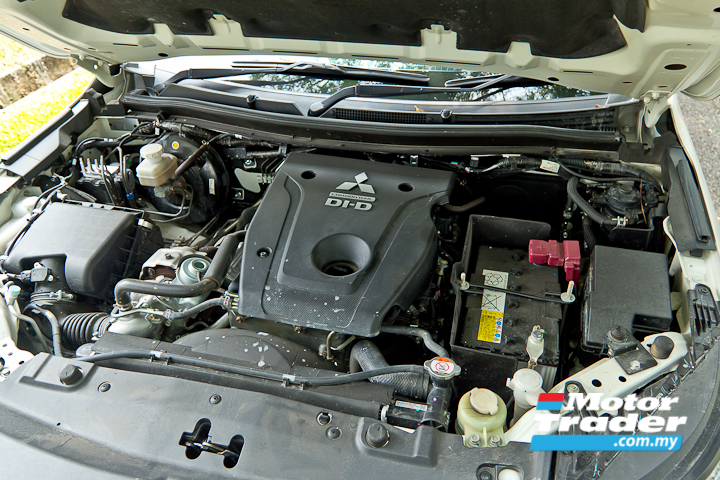 Under the hood is where the all-aluminium 2,442cc, common rail, DOHC, 16-valve MIVEC with VTG (variable turbine geometry) turbocharger does its work. It makes 178 hp at 3,500 rpm and 430Nm of torque at 2,500 rpm. Sending that power to the wheels is a six-speed automatic transmission.
The drivetrain is an electronically controlled Super Select 4WD-II 4X4 system. The system has a torque split of 33% front and 67% rear but mostly drives the rear wheels only in the default 2H mode. Via the Off-Road Mode button, drivers can select Gravel, Sand, Mud/Snow, Rock, to suite whichever condition faced.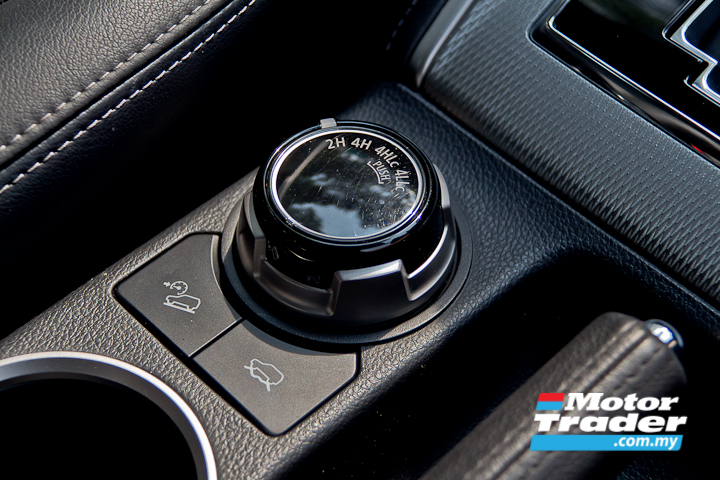 The gearbox house an electronically controlled centre differential which drivers can select 2H and 4H, while also have the option to lock the centre diff with the 4HLc and 4LLc when the journey gets tougher.
Driving the Mitsubishi Triton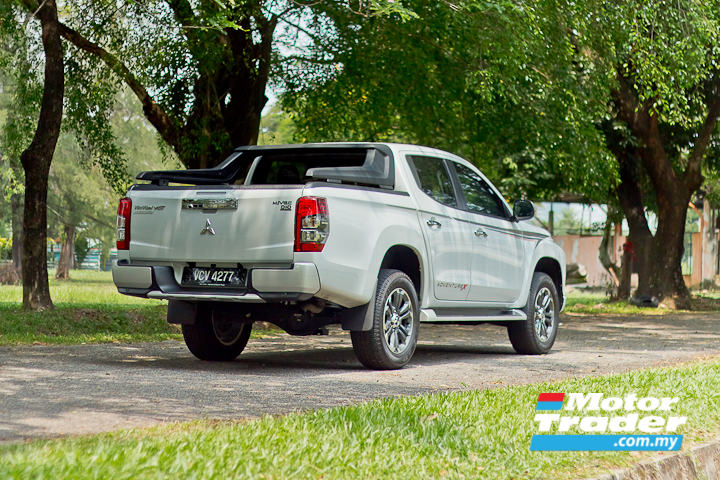 Being able to sit much lower than in most trucks, the Triton still does offer a commanding view ahead with minimal blind spots all around, while with the addition of the 360-camera as mentioned does aid driving in tight spaces.
The car-like experience can be felt when driving the Triton on the road. You're not going to hear much from the road and tyres and wind noise is quite minimal. The seats are plush and comfortable, great for long-distance driving. Overall, the ride is supple with a tinge of firmness with feelings of floatiness over acute undulations. What's more, the 2.4-litre MIVEC turbodiesel engine is refined and offers a smooth power delivery with minimal vibrations sent to the interior space.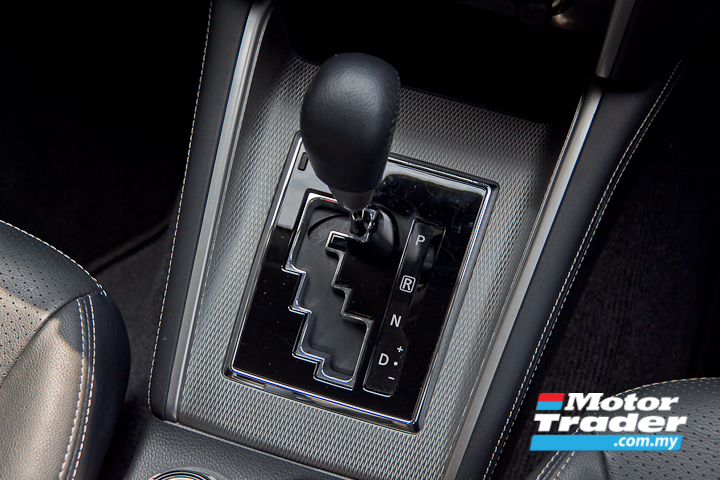 The ratios of the six-speed automatic transmission are nicely spaced in between, offering a good balance between fuel economy and acceleration.
Mitsubishi Motors Malaysia did not release fuel consumption figures. Driven on Malaysian roads, the Triton Adventure X did*:
11.2 l/100 km (8.9 km/l) Urban [moderate traffic],
6.3 Km/L (15.8 km/l) Highway [conservative cruising speeds],
10.6 Km/L (8.2 km/l) Combined [mostly moderate traffic and moderate to heavy acceleration].
*As tested. Fuel consumption can vary from person to person and depending on the type of journey and traffic conditions.
Performance and handling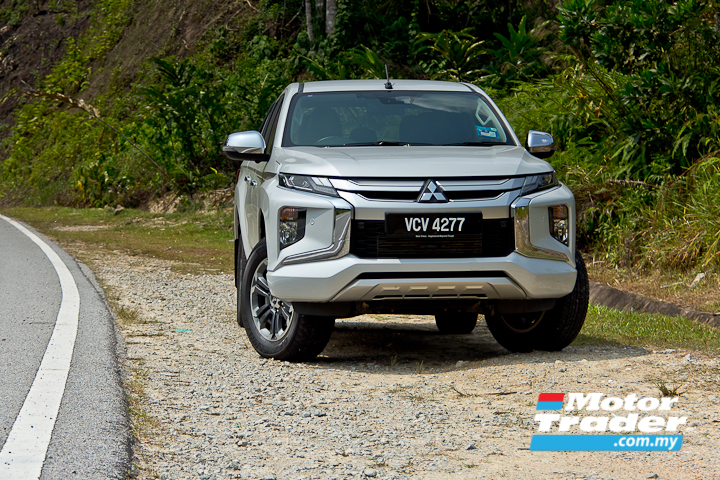 Performance and pick up trucks don't go hand in hand quite as much, but the Mitsubishi Triton proves that it can be competent in this space. The 430 Nm of torque does provide a punch when accelerating under legal driving speeds, however, light and gradual throttle application during cold and wet driving condition is recommended as the high low-end torque would make the traction control system play catch up in the initial phase.
In addition to that, the driver aids such as the ABS (Anti-locking braking system), EBD (Electronic Brake-force Distribution), ASC (Active Stability Control) and TC (Traction Control) does help to keep it on the black stuff and help to mask its mass.
When it comes to cornering, the Triton is competent in this area with a firm body control and ease of handling when driving in a spirited manner. The ASC works imperceptibly in the background without being overly intrusive in the drive. The steering does correspond to the quick direction changes, however, don't expect feel and communication from the hydraulic steering rack.
To sum it up, the Triton drives impressively well with adequate front and rear axle lateral traction with stringent body control, which feels far less wallow-ey than its closest competitors.
Should I get one?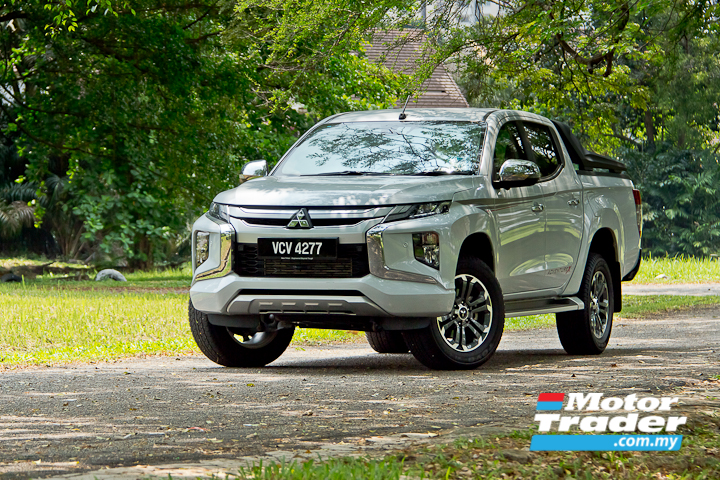 The Mitsubishi Triton Adventure X does worth its weight with all things considered. It has a car-like interior and driving characteristic which sets this apart from its rivals, which it does so impressively when driven close to its limit.
Moreover having an electronic-controlled locking centre differential does make it a capable off-roader as well, and the deep and wide rear deck does make heavy work light in carrying large payloads and bulky. What's more, it also has the refinement and comforts of a C-segment saloon which would have an appeal to owners who are looking for move up into a larger vehicle.
This is one to look into and consider for its price, offering potential owners relatively high comfort levels within an affordable price. Capable 4All occasions? Indeed!
2019 Mitsubishi Triton Adventure X

Price RM137,900
On Sale Now
Engine In-line 4 cyl, 2,442cc, VTG turbocharger, common rail Diesel
Power 178 hp @ 3,500 rpm
Torque 430 Nm @ 2,500
Gearbox 6-spd automatic
Kerb weight 1,930 kg
Top speed 160 km/h (tested)
0-100km/h N/A
Looking for a Mitsubishi? Check out listings for Mitsubishi cars and pick-up trucks here. List your car or bike to sell here.