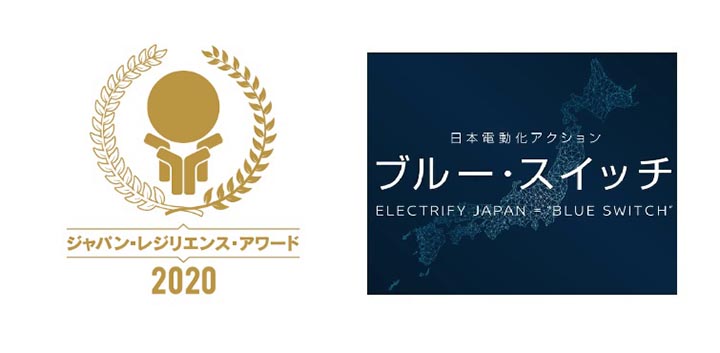 Nissan and 4R Energy have demonstrated that by repurposing EV batteries and vehicles can be used to power crucial facilities and homes in the aftermath of natural disasters.
The Association for Resilience Japan has honoured Nissan Motor Co., Ltd. and 4R Energy – a subsidiary of Nissan Motor and Sumitomo Corporation – for their efforts to promote energy storage in buildings, facilities and houses as well as the use of electric vehicles (EVs) as emergency power sources in the aftermath of natural disasters. Both companies received the Best Resilience Award in the Business and Industry category of the 2020 Japan Resilience Awards.
The award recognised the Blue Switch program initiated by Nissan in May 2020, which promotes the use of EVs to address issues related to disaster prevention, energy management, climate change, tourism, and the decline in population.
Blue Switch is Nissan Motor's initiative to electrify Japan's transport network including busses, taxis, police patrol vehicles and commercial vehicles. In addition, the initiative also provides infrastructural support in the installation of EV charging facilities in areas of lack of access as well as key locations such as restaurants and tourist destinations in various parts of Japan.
By the end of March 2020, Nissan will have concluded 31 agreements with local governments and companies for the use of EVs during and after natural disasters. These agreements allow access for local communities and citizens to EVs as power sources at evacuation centres and welfare facilities in the event of power outages. The vehicles in question include government fleets as well as car-sharing services and the demo units at Nissan dealerships.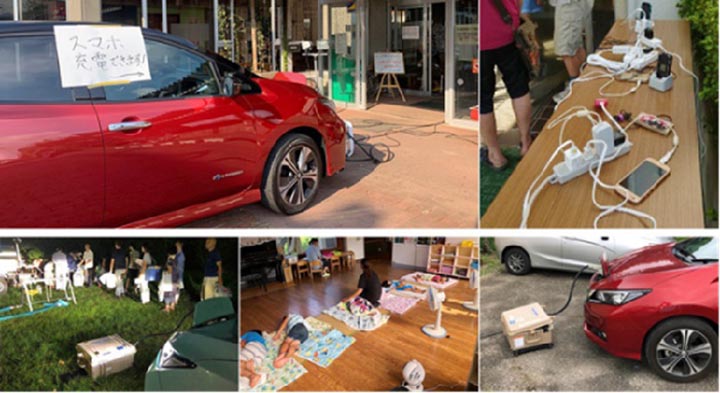 In the past two years, Japan has experienced more than eight million households having power outages due to natural disasters. One recent example was during the blackout in Chiba prefecture after Typhoon Faxai made landfall last September, where repurposed 40 kWh Nissan Leaf batteries developed by 4R Energy, as well as Nissan Leaf EVs help to provide an off-grid power source to affected evacuation facilities.
Moreover, 4R has also developed a new product which allows customers to use electricity stored in EVs through V2X (Vehicle-to-Everything) technology. V2X enables electric vehicles to help supply power to buildings as shown in the diagram below.
Trials of the V2X technology recently took place at selected 7-Eleven convenience stores in Japan's Kanagawa prefecture since September last year. V2X is jointly developed by 4R Energy and IKS Co., Ltd., and will be available to Japanese consumers by the end of 2020.
Nissan plans to further expand collaboration with local governments and companies through the Blue Switch program and to continue to promote advanced energy management along with 4R Energy.