Encouraged by the great response from customers to its continuous promotional activities, Boustead Petroleum Marketing Sdn Bhd – which distributes and markets BHPetrol products and services – has launched another new contest. The contest, entitled "Drive4Power", offers motorists a chance to win total cash prizes worth more than one million ringgit as well as millions of ePoints.
Attractive cash prizes and ePoints are up for grabs for purchases of DriveM7 Energy Drink or any other item (excluding purchase of RON95 petrol, diesel, flour, cooking oil and sugar). The contest is a joint promotion between BHPetrol and Mutiara Motors.
To enter the contest, customers just have to answer 3 simple questions on service station safety and drop the entry form into the box provided at participating BHPetrol service stations.
Eligible participants can submit as many entries within the contest period but are entitled to win one prize only. Contest forms will not be carried over to the following stage's draw. All winners will be selected based on a manual lucky draw by BHPetrol.
There are 3 stages for the award of prizes. The first stage is for entries submitted between September 15 and October 15, 2013, while the second stage is from October 16 to November 15, 2013. The third stage runs from November 15 to December 15, 2013.
For each stage, the prizes are as follow
1x Grand Prize: RM100,000
1x Cash Reward: RM50,000
1x Cash Reward: RM20,000
10x Cash Reward: RM10,000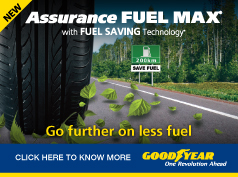 50x Cash Reward: RM1,000
50x Consolation: 50,000 ePoints
Additionally, for 25 winners with the purchase of DriveM7 Energy Drink, there will be an Exclusive Limited Edition Aaron Aziz Signature DriveM7 T-shirt each.
BHPetrol's Marketing Manager, Baba Tan, said that BHPetrol customers had given tremendous feedback on all the past promotions and encouraging support for Infiniti petrol, the company's fuel. "We were elated with the response of the just finished Shop-related promotions and have decided to launch this new 'Drive4Power' contest to encourage more motorists to visit BHPetrol," he added.
To know more about the promotion, visit www.bhpetrol.com.my
[Chips Yap]