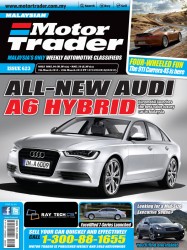 The Audi A6 Hybrid has put the literal cat amongst the pigeons by offering performance, economy, prestige and comfort at a price point bound to lure hard core owners of competitor brands into Audi showrooms. Initial reactions from the first weekend of sales are it's a mad rush out there so you better get your order in if you want one.
Of course it's also true Audi are the fortunate recipients of the rules governing the sale of 'green' cars. They can't be blamed for taking advantage of prevailing market conditions because it's as much a lottery for them as it is for everybody else. At the end of the day, you and I win as we get a fantastic car at a relatively affordable price so I don't think there'll be too many complaints.
Don't despair if you're not in the market for a luxury car because in general, cars are becoming more affordable. Sure, sticker prices aren't as low as they would be in a market free of import and excise duties but it's also true you get more kit, more tech and generally more car for your money these days.
The sub RM100k market is especially vicious and in the space of two months, we've seen entries from Korea, America and Japan vying for the same target customers with products priced within a few thousand of each other. Play hardball and in all likelihood you'll get some freebies thrown in to sweeten the deal.
Want something a little more exclusive? There's a solution here too. As a knock-on effect, if new car sales continue to stay strong in 2013 values of used cars will gradually fall. Add in manufacturer sanctioned discounting for barely used examples and there are savings, available to all especially if you opt for a privately owned two or three-year old example.
In a nutshell therefore, buying a new or used car has never been more attractive so make sure you do the required research to find the best deals. And, of course, the best place to start is at Motor Trader's huge classified advertisement pages.
Mark Cooke
Managing Director
We welcome suggestions on how we can improve this newsletter and provide you with information you would like to see so please do send us feedback at [email protected].

Lamborghini Veneno

Only three will be produced for sale – at RM12.119 million each

2013 Nissan Treasure Hunt

First time such an event has been held at LEGOLAND Malaysia

New Porsche 911 GT3

Celebratingthe 911's 50th anniversary with a new version of the sportiest 911
Land Rover to offer 9-speed automatic

World's first for a passenger vehicle

1M4U numberplates to be issued

Another 9,999 special numberplates for tender and sale

Audi A6 Hybrid

Only in Malaysia can you buy a hybrid variant for less than the petrol equivalent
10 facts about Malaysiaís vehicle population

Since 2007, the vehicle population in Malaysia has grown 35%

The new Volkswagen Golf GTI

A choice of two power outputs from the factory

The Korean Presidentís armoured Hyundai Equus

20 times the cost of a standard model and weighs almost 5 tons
Great Wall Motors vehicles in 2013 LTDL

Haval H5 and Wingle 5 models used by Cavalcade team

Peugeot Blue Box Butterworth opens

Largest Peugeot facility outside the Klang Valley

BMW ActiveHybrid 7L

BMW's flagship model line now has a hybrid variant
Kia Provo Concept

Rio-class road-legal racer concept for Europeans

2013 European Car of the Year

It's the Volkswagen Golf Mark 7

Hyundai starts fuel cell vehicle production

Preparing for the next big step in alternative fuel vehicles
If a thief is determined to steal your car, he will probably succeed. But you can reduce the possibility by installing a steering lock as a visual deterrent. For a thief, time is critical and if he sees a steering lock which must be removed, he may decide to choose another car instead.