The MINI One is back in the showrooms, albeit as a limited edition version, priced at RM146,888 (without insurance) .
Available in its Chilli Red and Pepper White exterior, the MINI One comes with 15-inch alloy wheels with a 5-star twin-spoke design along with features such as multifunction buttons, sport steering wheel, rain sensor and automatic headlight control, radio MINI Boost and a Bluetooth handsfree kit with USB interface.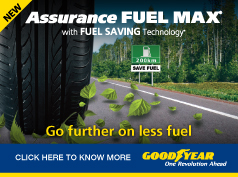 "MINI has always been a symbol of urban driving fun. Its indispensable element of Excitement promised in each model combined with its agile 'go-kart' handling and its most natural characteristic with cutting-edge efficiency have led to a very successful MINI story to date. From the very beginning, the MINI One's success story has always been linked with cheekiness and performance; and the new MINI One has all this and more!" said Dr. Gerhard Pils, CEO of BMW Group Malaysia.
He added that the appeal for MINI in Malaysia is greater than ever before, and is confident that the exclusive MINI One will be just as popular as the previous models, when all units were sold-out immediately.
The MINI One is powered by a 1.6-litre 4-cylinder petrol engine with a 6-speed automatic transmission. Its output is 98 bhp with 150 Nm of torque, and claimed fuel consumption is said to average 15 kms/litre.
Customers can add on the MINI Tender Loving Care (TLC) service package for RM4,088 which can be included on your H-P loan. This covers wear and tear repairs for 3 years/50,000 kms (whichever comes first). MINI TLC also covers engine oil changes, servicing of the air filter, micro filter, spark plugs and brake fluid; maintenance and servicing of brake pads and brake discs; maintenance and servicing of clutch in the event of wear and tear as well as replacement of windscreen wiper rubbers and blades.
In other words, you have no maintenance costs to worry about other than filling the petrol tank and changing the tyres when they are worn out.
Click here to find a selection of secondhand Minis looking for new owners
Have a Mini to sell? Let the world know through Motor Trader! Click here for a form to advertise online today!
[by Chips Yap]