The date of the launch of the new Ford Fiesta in Malaysia was announced today: Saturday September 28. The venue has not been mentioned although the company says that they're sponsoring the 'Hitz.fm, Birthday Invasion' and that admission will be free to 'the country's coolest, most happening party of the year'.
Though the Fiesta model line has existed in the Ford line-up since 1976, it has never been officially sold in Malaysia until the current sixth generation which was launched in 2010. The Fiesta was developed by Ford of Europe and approved by Henry Ford II although he personally didn't like the idea of producing such a small model. In his view, he would have to sell 'millions' of the small model to make a decent profit, compared to the better margins that could be obtained from larger cars.
Though its small size would have made it ideal for sale in Malaysia, the 1970s was the period when the Japanese brands displaced the European makes in Southeast Asia. Their low price, good fuel economy and generally better reliability attracted many buyers and small European models could not compete.
While other carmakers decided not to challenge the Japanese carmakers head-on, Ford's strategy was 'if you can't beat them, then join them', which led to its affiliation with Mazda.
The partnership saw the two companies offering technically similar models under their own brands – eg the Mazda 323 and Ford Laser, and the Mazda 626 and Ford Telstar – and the vehicles were also built in Japan (as well as assembled in Malaysia).
With alternative small models for the Asian markets, the Fiesta was not brought to Asia although it was offered in small markets like Singapore and Hongkong.
Seven years ago, when Ford appointed Alan Mulally to be President & CEO, the Global One Ford strategy was conceived which dictated that Ford models should be truly global models, designed and engineered to be sold all over the world. In this way, there would be no wasteful duplication of product development which had resulted in variants of the same model being built for different regions or in some cases, models being designed only with one region in mind.
To Mr. Mulally's mind, giving models more global potential would bring about better economies of scale which is the name of the game in the auto industry. Furthermore, the savings from not duplicating models and greater platform-sharing would enable Ford to provide more high-tech features across the range, making the model better value for money and more appealing.
This led to the sixth generation of the Fiesta being developed to be sold in virtually every market in the world, particularly China which has become the world's largest automobile market. Last year, it was the best-selling small car in Europe with one unit being sold every two minutes, on average.
Now after 3 years, the Fiesta is updated and apart from the obvious cosmetic changes on the outside, it is known that there will also be a number of technical upgrades. A new 112 ps/140 Nm 1.5-litre petrol engine will be offered and this will have Ti-VCT (Ford's version of variable valve timing on exhaust and intake ports). A 6-speed Powershift dual-clutch transmission will be available although it is not known if the manual transmission will still be offered.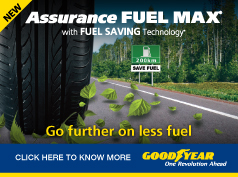 Smart regenerative charging keeps the battery charged in a more efficient way, helping to extend battery life. Unlike traditional systems, this system only charges the battery when it needs it and whenever possible, avoids doing so when you're pressing the accelerator. This can help save fuel and further reduce emissions.
Other features include Electronic Stability Control and Hill Launch Assist. Ford SYNC with Bluetooth and Voice Command will be available along with keyless entry and pushbutton starting.
Imported from Thailand as a CBU model, the new Fiesta will come with a 5-year or 200,000-km warranty as well as 3 years or 60,000 kms free scheduled maintenance.
If you're already convinced that the new Fiesta is the next car you want to own and want to be among the first in Malaysia, you can place a booking at Ford dealers nationwide now. To locate a showroom, visit www.ford.net.my.
[Chips Yap]