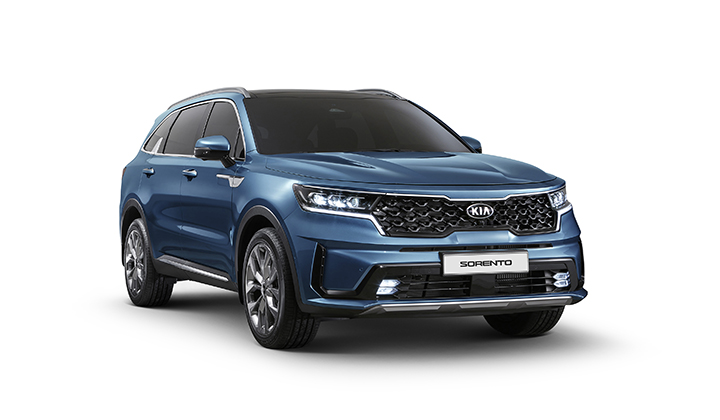 The next-generation Kia Sorento is going upmarket with new exterior, interior design, and new platform
Kia Motors Corporation has provided details of its upcoming all-new seven-seating, people carrying Sorento, prior to its world debut at the 2020 Geneva Motor Show.
The all-new 2020 Kia Sorento will be built on Kia's new platform when production starts later this year. Details are little, but Kia says that the platform will have a smaller engine bay while maximising on passenger space with shorter overhangs.
The all-new Sorento will be 10 millimetres longer, while the wheelbase will be 35 mm longer (2,815 mm). Kia says that the Sorento will have much more room than any other mid-size SUV with class-leading boot space.
The new 'Smartstream' turbo hybrid powertrain will comprise of a 1.6-litre T-GDi engine with a 44.2 kW electric motor and 1.49 kWh lithium-ion polymer battery pack. Kia says that the powertrain's total output will stand at 227 bhp and 350 Nm of torque.
Additional powertrains will be announced in the near future including petrol engines and a powerful new plug-in hybrid variant.
Korean and European markets will be able to opt for the new four-cylinder 2.2-litre 'Smartstream' diesel engine which makes 199 bhp and 440 Nm of torque. The new oil burner will be mated with Kia's new 8-speed wet double-clutch transmission.
While Korean and North American will get a 2.5-litre T-GDi 'Smartstream' engine which makes 277 bhp and 421 Nm of torque. Likewise, the petrol engine will be matched with the new 8-speed DCT as well.
The exterior of the all-new Sorento will feature the new interpretation of the 'Tiger Nose' grille which visually adds width to the new seven-seater. Moreover, the new LED headlamps with daytime will be standard equipment as well.
The all-new Kia Sorento's proportion extends the length of the bonnet, drawing the A-pillar 30 mm further back from the front axle for a more 'cab-rearward' design.
Inside, the all-new Kia Sorento will be upscaled with new premium-grade materials on a layout that blends metallic trims, leather upholstery and embossed wood-effect surfaces.
Keeping relevant to the times, the all-new Sorento will come with a 10.25 touchscreen infotainment system, which incorporates audio-visual navigation. While the driver will get to see the new 12.3-inch high-resolution display instrument cluster.
The all-new Kia Sorento will make its debut on March 3, 2020. Kia's release had no mentions of which market it will be introduced in first or when it will come to Southeast Asia, as well as prices and specs.