The 2019 Aston Martin Vantage may seem to be a garage princess but on the contrary, it's a sports car that is usable and practical for daily use.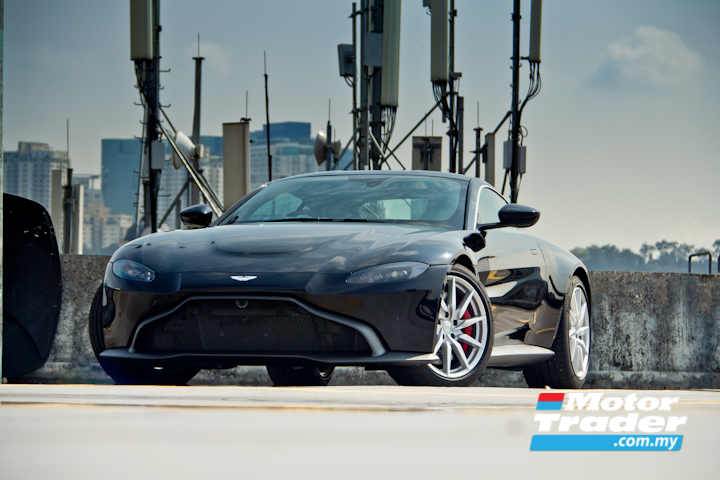 Luxury items and practicality don't normally go hand-in-hand. Typically, cars like these are seen out in the weekends or parked in pit garages during track days. But in principle and regardless of its price, a car has to be driven on a frequent basis to prevent it from falling apart. Frankly, there are no rules on how a car should be treated, and if you want to drive an Aston Martin Vantage every day, there are no reasons from stopping you to do so.
But can the Aston Martin Vantage manage it? One of Aston Martin Vantage's main rivals is the Porsche 911 and Porsche markets their cars as practical and reliable, which is true and that has stuck with many people, myself included. But, can Aston's 911 fighter do just well – or better than Stuttgart's classic could?
The looks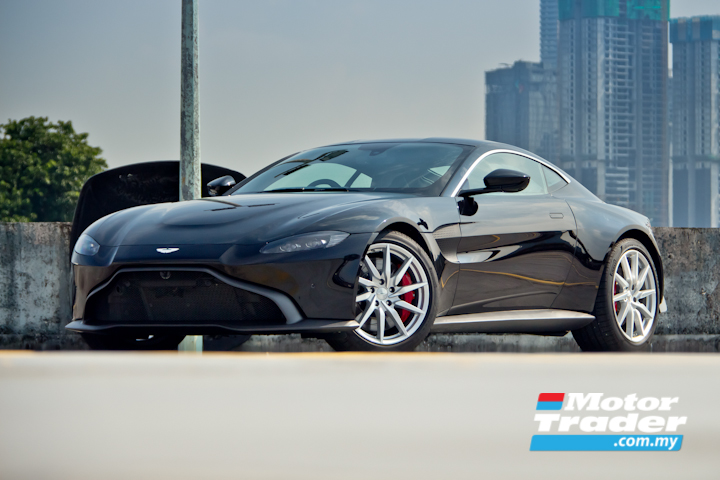 I must admit, this was one of the most challenging cars for me to photograph because I was questioning whether I could do justice to how beautiful the Vantage looks in the flesh. But one thing is certain – the Vantage turns heads and makes its presence known.
But I do feel that this generation Vantage's looks could last for decades just like the outgoing previous generation. That was in production for 12 years. The Vantage is like a well-tailored dress cut from the finest cloth. There's nothing much to add about how gorgeous this car looks; it's not visually loud nor fussy but purposeful.
Lighting the way forward are LED headlamps with integrated daytime running lamps, direction indicator and position lamps. What many would see is the full-width LED tail lamp with integrated third brake light and dynamic direction indicator.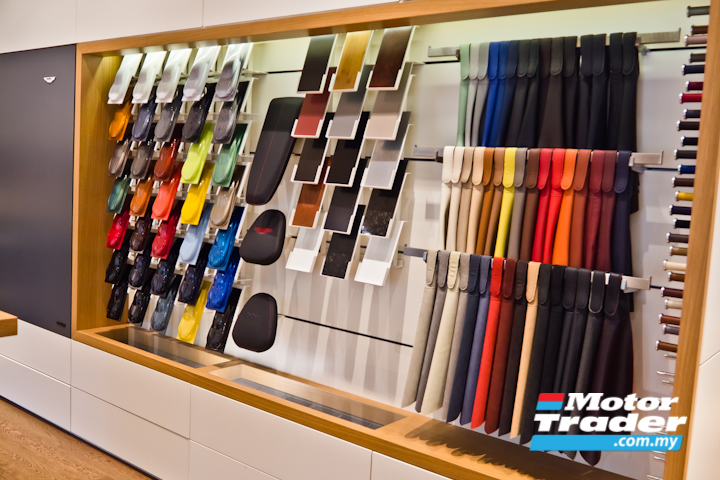 When it comes to exterior and interior colour combinations, owners can personalise their Vantage with a wide selection of exterior colours and interior materials to mix and match. But if you're aren't too sure where to start, Aston Martin does offer six mixed and match Designer Specifications to draw inspiration from, or to go with.
The car in this review is finished in Onyx Black with its splitter, diffuser and sills in Graphite. The wheels are 20-inch 10-spoke directional Silver Diamond Turned wheels matched with red-painted brake callipers.
The interior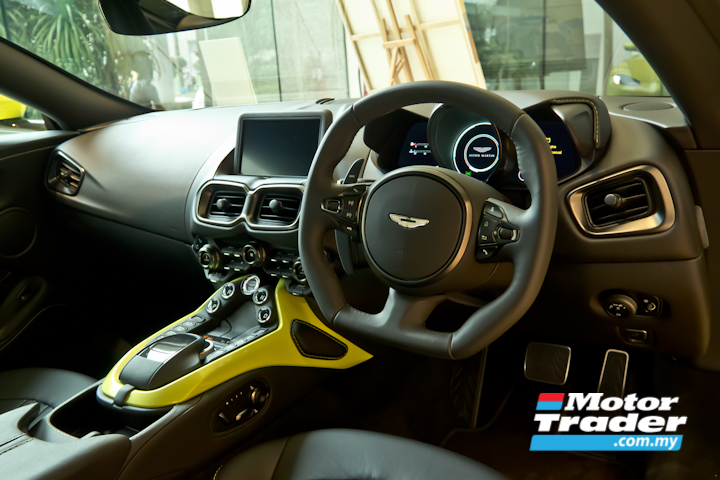 Inside, the interior is just as nice to look at as to live in. The Aston Martin Vantage can sit persons of many builds and forms. Being a 1.68-metre leggy woman with short torso and arms, the Vantage's optional 16-way power-adjustable seats (8-way standard) could sit this writer comfortably in her happy spot.
Facing an audience of one, the Vantage featured a full-colour 12-inch TFT digital instrument cluster. It's divided into three sections: the centre screen showed the engine rev counter, travelling speed, gear position. The right relayed information such as tyre pressure, trip meter, range, fuel economy, navigation, media and telephony. While the left provided more imperative info such as fuel level and engine temperature.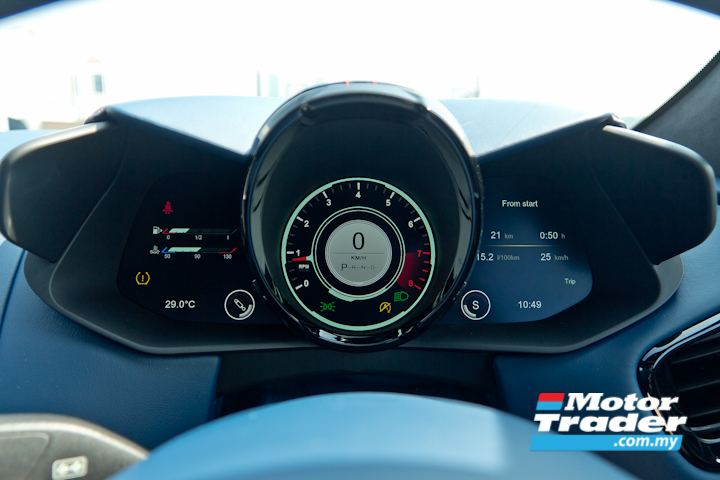 Having to do a quick grocery run to either B.I.G. or Village Grocer in the Vantage would be more of a Saturday morning errand rather than an anxiety-fuelled misadventure.
The switchgear around the driver was within reach with little effort needed in memorising the location of buttons. These had nice and expensive tactile feedback as to be expected. And if you're familiar with Daimler products, you might find some familiarity in the Vantage, particularly on the signal indicator stalk and the COMAND control interface at the lower centre console. Like the exterior, the Aston Martin Vantage's interior can be tailored to suit the owner's taste.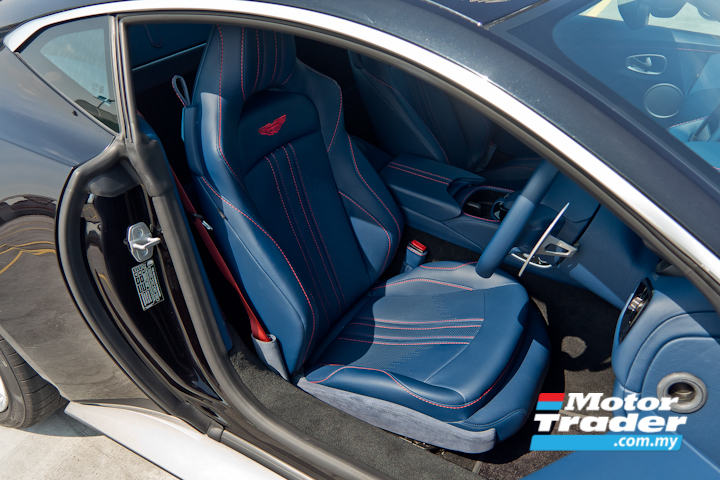 Everything in here fit together snuggly with no sharp or awkward surfaces wherever the skin touches or the eye catches. The leather seats were plush, caressing the body on long distances while keeping the flesh isolated from the harsh vibrations below.
If you like BMW's seats, then you'd like the ones in the Vantage even more. The genuine Caithness cowhide was soft to the touch and didn't stick to the skin even after prolonged driving, which is great especially for girls who love shorts and skirts, while the ventilated seat aids cooling down on a hot and humid sunny day.
Infotainment system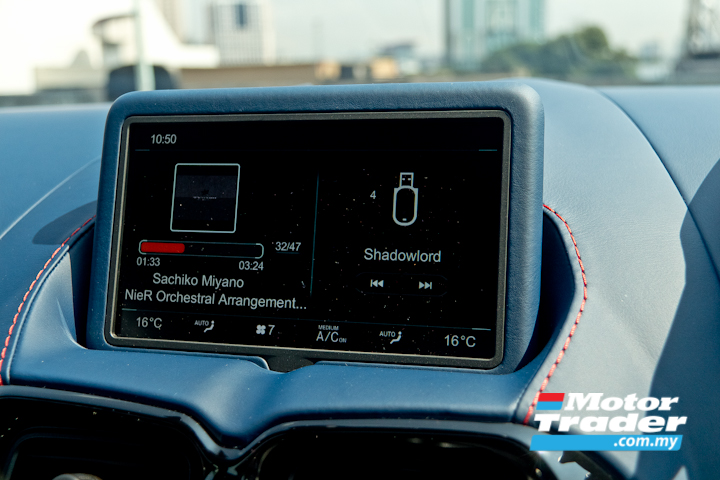 That said, the 8-inch LCD screen relayed crisp visuals of the reskinned COMAND interface familiar in many older Mercedes-Benz models. Drivers can pair their smartphones via Bluetooth to access telephony functions and stream music as well. The system also featured USB playback, iPod and iPhone integration, DAB & AM/FM radio. There was also a built-in satellite navigation system.
Sound reproduction came from six loudspeakers located at strategic spots in the interior. There is also an optional 12 speaker system, both supplied by Bang & Olufsen. The experience, even with the standard Base Audio set, had clarity and power expected from a top-flight vehicle. And playing MP3 files of a live orchestral recording with faithful clarity gave that front mezzanine seat experience. Imagine what the Aston Martin Premium Audio 12 speaker system could do.
Practicality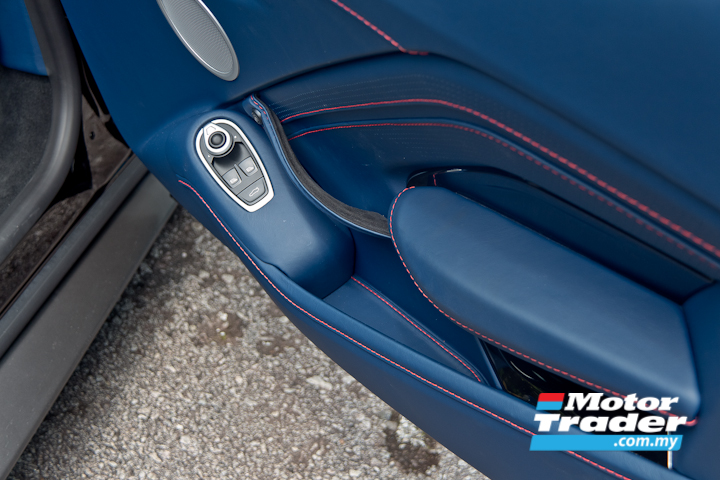 You would be surprised as to how practical the Aston Martin Vantage can be. Practical in the sense that it's just as user-friendly as a Japanese sportscar. The door inserts can hold personal belongings or other items such as water bottles without any issue. Moreover, being more than just a pocket freed up restrictions of what could be stowed away. Basically anything imaginable. But, the devil is indeed in the details; even here, the leather and contrast stitch combination could be seen too.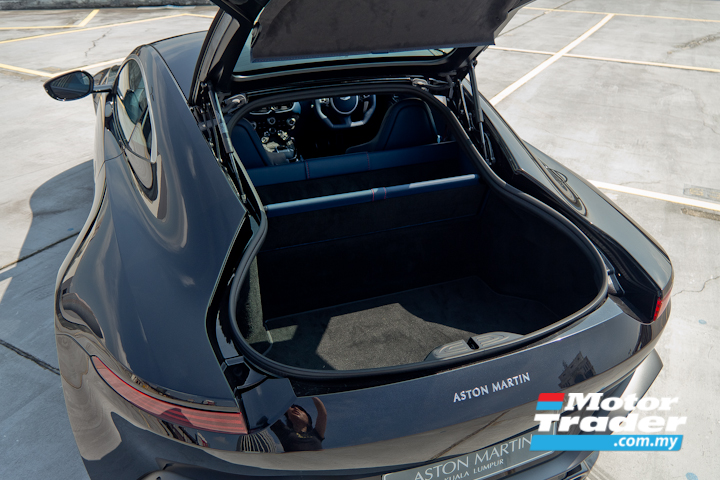 The Aston Martin Vantage's boot space measures in at 350-litres, which is big enough for luggage for two or groceries. Or a single golf bag simply by folding the boot partition. The tailgate also comes with a tonneau cover which keeps prying eyes away from what's stored inside.
The practical capacity of the Vantage doesn't just end there. Equipped with four cameras around the car, the Vantage came with a 360-degree camera which gave a virtual bird's eye view, incredibly useful when navigating through tight parking spaces or during parallel parking. It may also seem that the two-door sports car was quite substantially sized but in reality, it's about the size of a BMW 4 Series and smaller than the Mercedes-AMG GT.
But what makes the small Aston Martin sports car particularly practical over its rivals was the brand's signature Swan doors which open at an upward angle of 30 degrees, lifting them up and away from the kerb. The doors are hydraulically assisted which open and stay open regardless of angle. However, you might want to be careful as the doors open fully with moderate effort.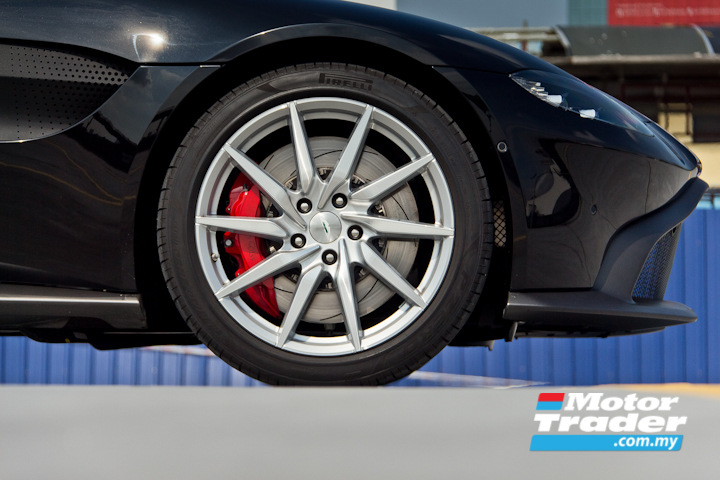 Speaking of kerbs, the Pirelli P Zero tyres fitted on the Vantage comes with rim protector which features extra rubber on the outer side to keep hard and abrasive surfaces away from the alloy wheels.
Don't let the Vantage's distinctive splitter give added anxiety driving up ramps. With a ride height of 127mm, (which is as tall as a Mazda MX-5) and short wheelbase, it was able to go ascend most ramps and go over a speed bump in the Klang Valley. And being able to get out from a tricky multi-storey parking lot unscathed was a huge relief!
Drivetrain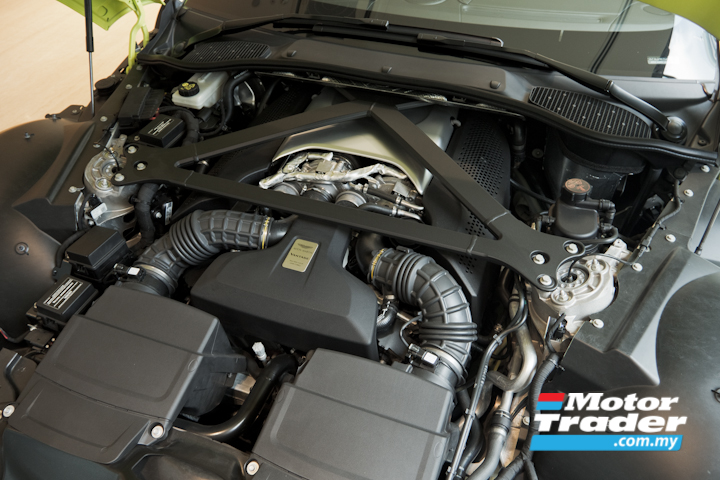 The Vantage is powered by a Mercedes-AMG sourced M177 DE40 LA 4.0-litre twin-turbocharged, direct-injection DOHC with variable valve timing. And it's the same one as in the DB11, as part of the agreement between Aston Martin and Daimler AG in 2013. This engine makes 503 bhp at 6,000 rpm and 685 Nm of torque from 2,000 – 5,000 rpm.
What's makes the M177 engine unique are the 'Hot Inside V' single-scrolled twin turbochargers which help increase throttle response and shorter plumbing which makes it a smaller package as opposed to the traditional "hot outside V" engine with longer intake pipes and exhaust manifold.
The rear subframe is rigidly mounted to the chassis which gives the Vantage its peerless lateral stiffness.
This also makes packaging in a small space much easier, which is why the boffins at Aston Martin can sit the engine lower and behind the front axles to achieve the near-equal weight balance. Also, the charged air from the turbochargers is cooled via water-to-air intercoolers. This again helps to reduce engine size, and the length for air to travel into the combustion chamber.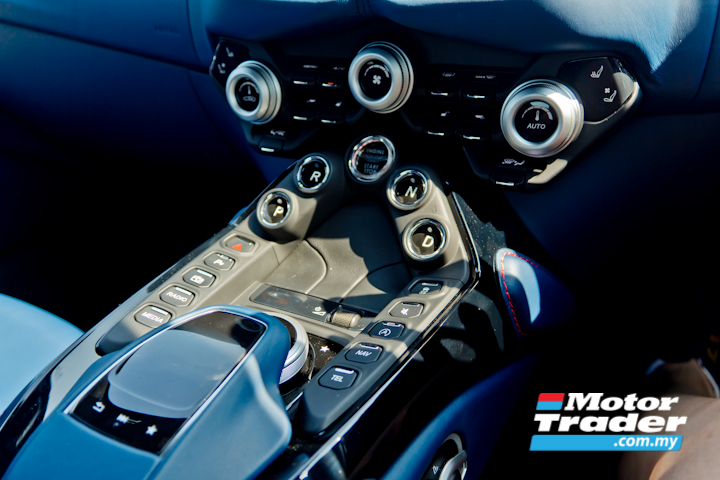 Mated to the 3,982 cc engine is a ZF eight-speed conventional automatic transmission, which is sent via an alloy torque tube – which houses a carbon fibre driveshaft- through the bottom of the car. The rear electronic differential helps to keep the speed of both rear wheels consistent, and it also has torque vectoring which helps to ease in the inside rear wheel to try and help the turn-in. The drivetrain contributes mostly to Aston's near 50/50 weight distribution, which is a huge contributor to the Vantage's joyful driving characteristics.
Suspending the Vantage above the ground are front double-wishbone and rear multi-link suspension with coils springs, anti-roll bar and adaptive damping. Fitted in this test unit are 400 mm ventilated two-piece steel brake discs and 360 mm rear co-cast ventilated steel discs.
Tyre wise, the Vantage's 20-inch wheels are fitted with bespoke 255/40 R20 front and 295/40 R 20 rear Pirelli P Zero tyres. The tyres are said to be engineered to handle above the car's limit. And to be able to shut the three-stage stability control off is a huge plus for the experienced driver.
Driving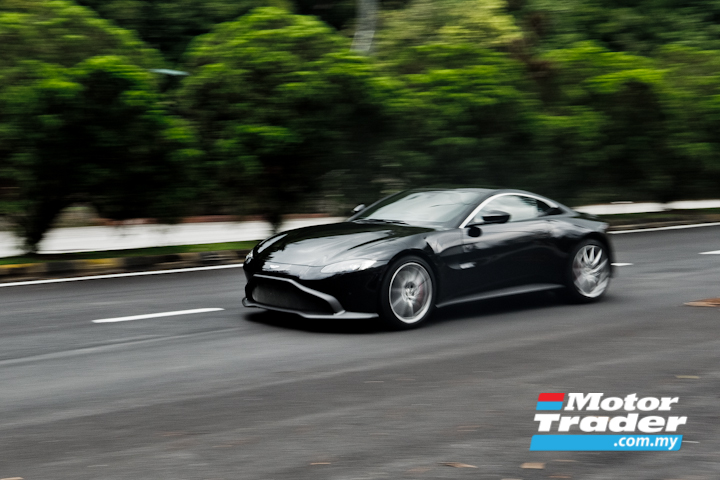 Driving the Aston Martin Vantage was one thing, but driving this around the heart of Kuala Lumpur and in the tight alleys of Petaling Jaya might sound daunting, but it wasn't. Far from it. The Vantage is as friendly and approachable as a Volkswagen Golf TSI; things like getting stuck in jams, waiting at the traffic lights, and driving up the multi-storey car parks, the Vantage take like a champ.
The steering wheel weight felt light in normal driving conditions, and Electric Power Assisted Steering rack turned lock-to-lock in 2.4 turns or 864-degrees. This made light of manoeuvring the car into tight parking spots without the need to turn the wheel much.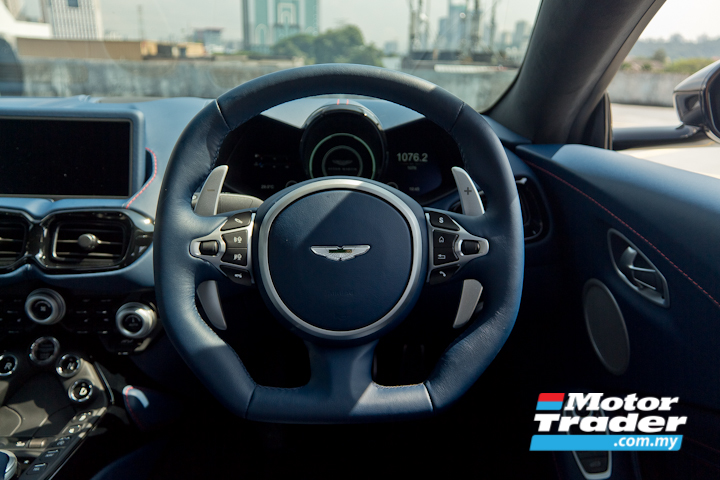 An unusual feature in the Vantage was the square-ish-shaped steering which is rather unconventional but it didn't require changing driving style or habits. However, the benefit was that it doesn't get into the driver's line of sight, especially for many who drive while scanning the horizon.
It didn't feel chunky in the hands, and it did subconsciously communicate to this driver that driving this car required the 9- and 3-clock hand position. The long aluminium pedal shifters were hard to miss and didn't require much effort to operate.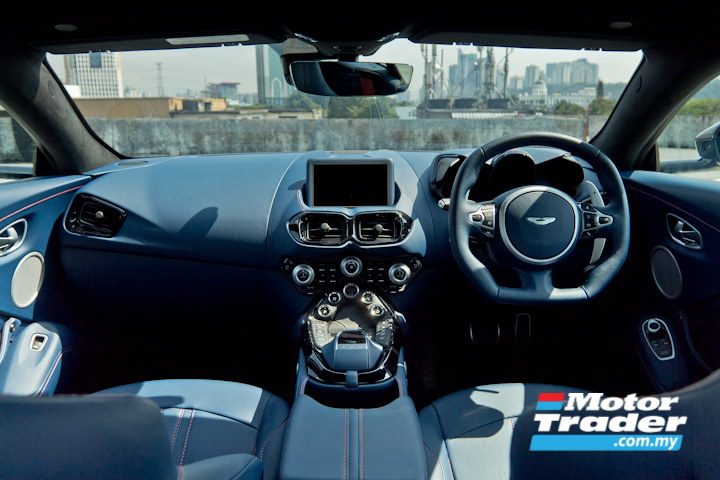 That said, for a low-slung car, driving it didn't feel cramped or claustrophobic. It was easy to look out of and scan the environment outside. The large-ish wing mirrors being extended slightly outside of the overall track width allowed more room to look out for tall kerbs or bollards. This was crucial when driving through narrow alleys or pathways.
Being modestly sized, the Vantage was easy to place on the road without needing to second guess oneself if the car was about to eat into the next lane or about to run above a kerb. When in doubt, the 360-degree camera with its pseudo bird's eye vision provided a bigger picture of the Vantage's immediate surroundings, which helped spot obstacles that may have got in the way or potentially damaged the vehicle.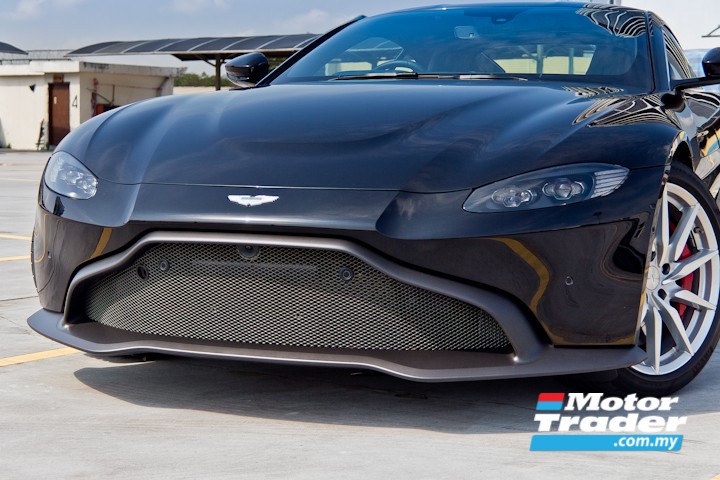 Aston Martin claims that the Vantage's consumption figure stands at 10.3 l/100 km (9.7 km/l) combined. Driven on Malaysian roads, the screen read*:
15.5 l/100 km (6.45 km/l) Urban,
10.4 l/100 km (9.61 km/l) Highway,
12.8 l/100 km (7.81 km/l) Combined.
*As tested. Fuel consumption can vary from person to person and depending on the type of journey and traffic conditions. The Aston Martin Vantage also comes with engine auto start/stop function as standard.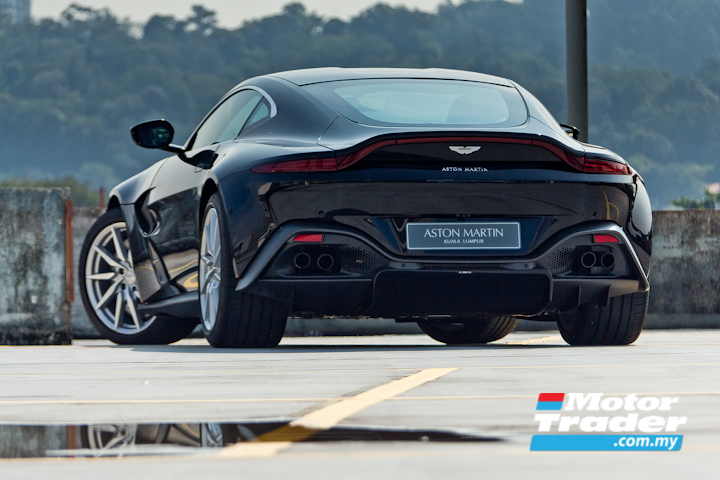 In summary, the Aston Martin Vantage was an easy car to drive in urban spaces. Having to do a quick grocery run to B.I.G. or Village Grocer in the Vantage would be more of a Saturday morning errand rather than an anxiety-fuelled misadventure.
The Vantage's ride quality over blemished Malaysian roads was fluid and composed. The adaptive dampers in its default Sport mode provided a decent amount of comfort and isolation from the occupants inside, even over damaged surfaces by vicious monsoon rains as of late, and it was not overly crashy over speed lines.
Performance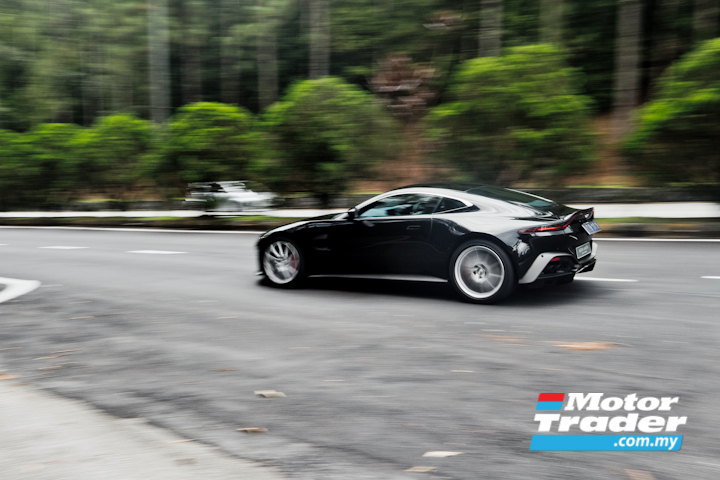 The Aston Martin Vantage is a very quick car from the get-go. From pause, the 503 bhp is claimed to lunge this sports car up to the centennial in 3.6 seconds before puffing out at 314 km/h. And the 685 Nm may be under than that of the Mercedes-AMG's 700 Nm, it still gives a good pushing back into the seat when pushing the right pedal forwards.
Regardless, the power from the AMG-sourced V8 was more than adequate for its 1.6-tonne-ish kerb weight, while the ZF gearbox rapidly shifted ratios both on the up and downshifts a lot like a DSG gearbox. It did sometimes hesitate on downshifts, though, which is a Mercedes-ish thing to do, perhaps it was down to the engine, not the gearbox. Despite that, the gear stayed put even when the engine hit its 7,000 rpm redline in full manual mode until changed up.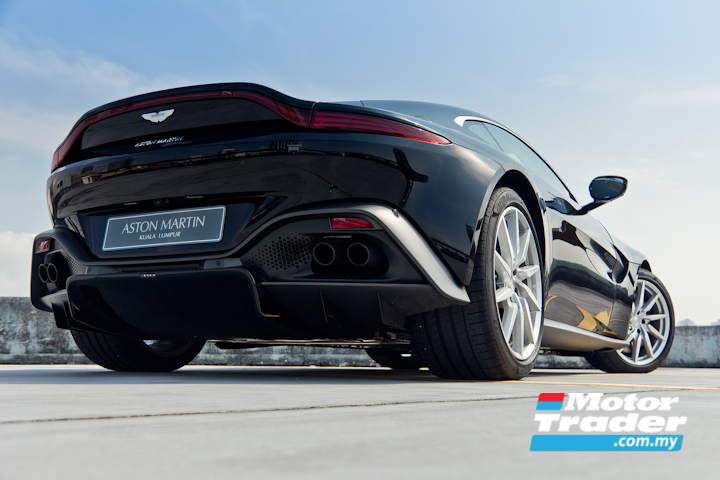 That said, drivers have more involvement in the drive as you're are able to select the adaptive damper and engine modes separately on the fly, as opposed to having to rely on presets.
Besides making the engine much more responsive, Track mode added a more evocative experience in the Vantage, which made the exhaust note angrier, raspier, more naturally-aspirated than muffled soundtrack in the Mercedes counterparts. I feel that Aston has done justice to the AMG V8.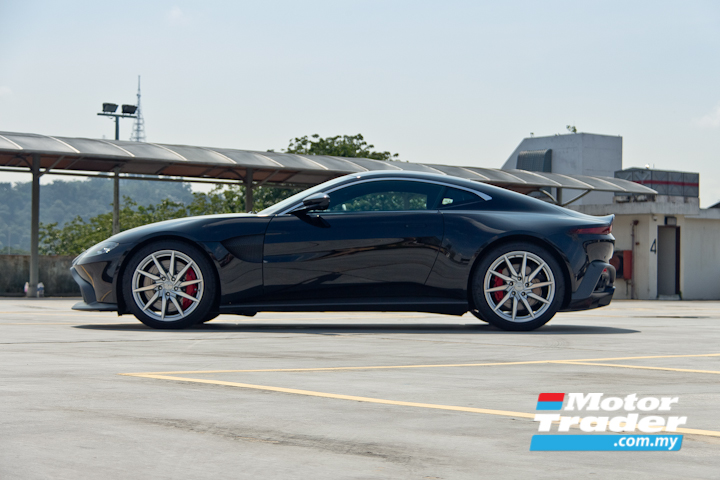 Going around corners quickly was something the Vantage did exceptionally well. Driven spiritedly over the fast, technical and bumpy switchbacks of Ulu Yam, the Vantage wasn't scary or intimidating. The inherent quality of a car with near equal weight distribution is that most of the mass is equally distributed on both axles and all four corners. The Vantage drove as though on a pivot where the driver and passenger were seated, which gave a great sense of agility.
The Vantage's body control was good, even in the softest suspension mode. The front end went where it was pointed with an impressive level of control and precision over the rear. The rear subframe is rigidly mounted to the chassis which gave the Vantage its peerless lateral stiffness, which the rear axle did what the engine and electronic differential told it to do. Also, the Vantage's extruded bonded aluminium body structure contributed to the overall body stiffness.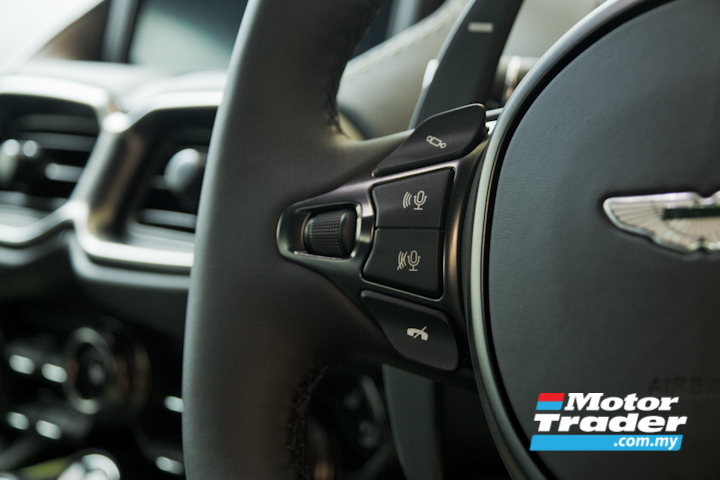 On power, the electronic differential locked up accordingly as to the amount of throttle applied, making the cornering line entirely your choice. The balance near limit was still balanced and neutral.
We drove with the Vantage's traction control in its full-on state, however, you can completely turn the system to ESP Track for a little more slip, or turn it completely off. Regardless, the front-engined Aston's rear-wheel-drive layout had a beautiful, benign balance and was lovable and fun.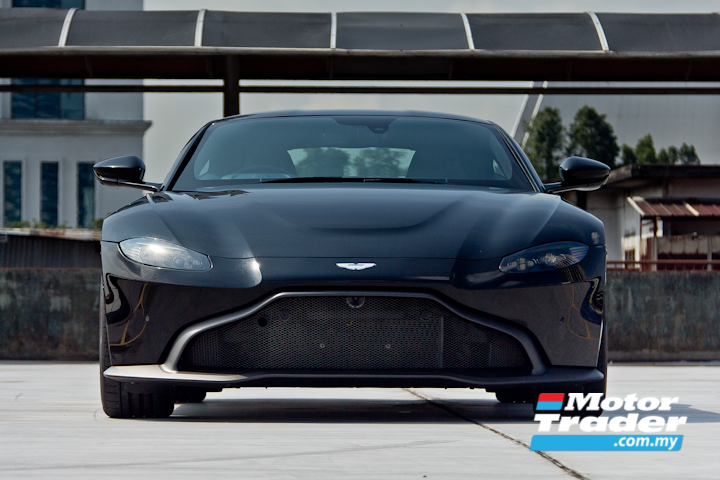 The brake pedal feel was progressive much like a non-boosted master cylinder with a short pedal stroke and didn't require brute strength. Aston does also offer optional carbon-ceramic discs if you're looking to take the Vantage to the track. But if it's for street use, the steel discs would suffice.
Steering was not as nuanced and sharp like the one in a Porsche 911. However, the Aston did it differently; the steering was full of feel yet was smooth and quick, centred as it should and communicated what the road beneath was like. The steering had two weights, which got heavier as it was driven faster. It gave a good sense of control of the front axles and how much the sticky Pirelli P Zeros could hold. All in all, it was poised, predictable and responsive, and it was thoroughly enjoyable
Should I get one?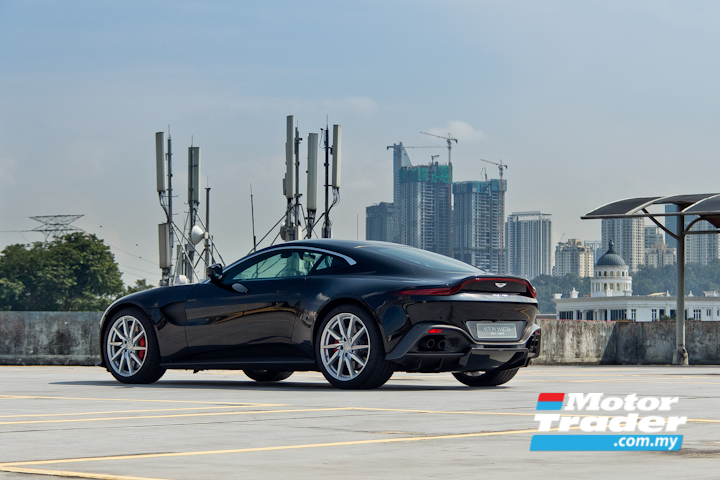 The Aston Martin Vantage can go toe to toe with the best sports cars in the business, where some cars are strong in certain areas but compromising in others. But I'm confident to say that the Vantage is a car that is much more complete and enjoyable. And being able to do a lot of things better makes it a very desirable alternative.
Another peace-of-mind point to note is that all Aston Martin cars in Malaysia can be serviced at Aston Martin Kuala Lumpur's service centre in Lingui Industrial Park, Sungai Buloh. So if you're a concerned owner, it's good to know that all Aston Martin cars in Malaysia will be taken care of.
Tester's Note: Approachable, brutal engine soundtrack, telepathic handling, poised and compliant ride while practical and easy to drive, the Vantage does it better than a Porsche 911.
Aston Martin Vantage
Price RM1,568,605.60 (Retail)
On Sale Now
Engine 3,982 cc V8 twin-turbocharged, direct-injection, DOHC
Power 503 hp @ 6,000 rpm
Torque 685 Nm @ 2,000 – 5,000 rpm
Gearbox 8-speed automatic
Kerb weight 1,530 kg (dry, inclusive of light-weight options)
Top speed 314 km/h
0-100km/h 3.6 seconds
If older Aston Martin models you're after, then you can find them here and if you're looking to sell your car, bike or truck, you can log in or register here.