Safe biking tips from PETRONAS Cub Prix pro-riders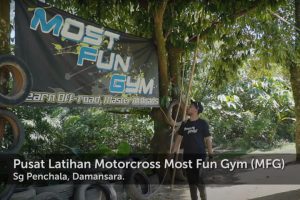 Malaysian comedian Zizan Razak is a keen biker and bike safety is something he takes seriously. Who better to learn from but professional riders? They whizz around racing circuits at speeds that give people cold sweats just watching them through a TV screen. So, when he was offered a chance to spend the day riding with three PETRONAS Malaysia Cub Prix pro-riders, he grabbed it.
Of course, first he needed to find them. They weren't hiding from Zizan, they were at Most Fun Gym in the wilds of Kampung Sungai Penchala, Jalan Damansara. Training at a motorcross track is where professional racers hone their skills – learn off-road to master all roads. Training at the all-terrain track is how they become skilled at reacting when the riding surface changes suddenly.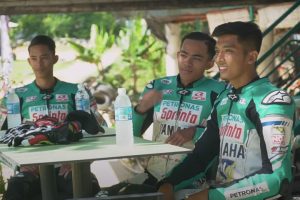 Zizan had a quick introduction to the three bikers, Ahmad Afif Bin Amran, Muhammad Haziq bin Muhammad Fairues and Muhammad Akid bin Aziz then he was suited, booted and out on the MFG's off-road track. If Zizan was worried, he needn't have been. He was in Champions' hands.
Ahmad is a three-time PETRONAS Malaysia Cub Prix champion. He first won the CP115 category in 2013 before moving up to the CP150 category which he won in 2018 and 2019. Ahmad rides with the PETRONAS Sprinta Yamaha – CKJ Racing Team.
Fellow biker Haziq rides for another team, the PETRONAS Sprinta Yamaha Maju Motor Racing Team. Haziq won the PETRONAS Malaysia Cub Prix Championship Yamaha Rookie Race in 2015.
The third champion, Akid, is Haziq's teammate at the PETRONAS Sprinta Yamaha Maju Motor Racing Team. In his career, Akid has won the PETRONAS Malaysia Cub Prix Championship for the CP115 category twice, in 2016 and 2017 as well as the FIA Asia Road Racing Championship (UD150) in 2017 and King of 2T (UMA Cub 180) in 2016.
Below, we summarise the tips the three Championship racing professionals shared with Zizan but you can also whizz straight down to the video here.
Tip number 1: Gear Up!
Whether you are planning to ride to Hat Yai or to Tesco a block away, it is important to wear the right biking gear before heading out. Zizan's cool but ripped jeans, a no-no. Regular clothes don't offer any protection should the rider come off the bike.
Team member Ahmad Afif Bin Amran, clad in the team's mint green (PETRONAS' corporate colour) racing suit, said that at the speeds they ride at on the circuit, an all-in-one suit, like armour, is crucial – which is pretty much the same on the road.
So, if you're not a champion racer with a team and a sponsored riding suit, what should you get? Essentials are mid- to high-range crash helmets with DOT or Snell certification, jackets, gloves, long pants and proper riding boots to protect ankles and toes. If you can afford it, Internal body armour. It is expensive, but can increase your chances of surviving injuries if you do get into an accident.
.
If you're on bikes 500cc and above, definitely, you need to wear a one-piece riding suit like the Cup Prix riders' to protect against road rash should you fall and skid on the road. There's nothing fun about that! Fun fact: wearing bright colours is good because you would stand out like a beacon. You want drivers to notice you on the road.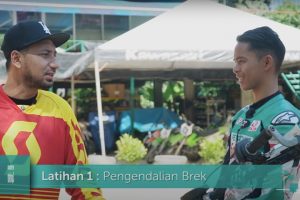 Tip number 2: Learn How to Stop.
Getting a bike to speed is easy, but do you know how to stop – and safely? Zizan said just hit the brakes. Ya… but unfortunately that's not the right answer – unless you want to test out your new safety gear. You have to finesse the brakes… squeeze too firmly and you'll skid and acquire that Road Rash we mentioned earlier.
Akid's tips to Zizan:
 Keep your body straight and upright
 Do not lock the front wheel
 Transfer your weight to the back
It's something you need to practice, as Zizan learnt – but he soon nailed it.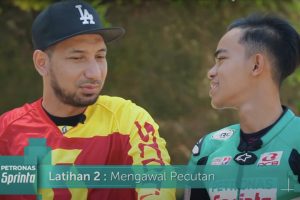 Tip Number 3: Learn to accelerate smoothly
Like stopping, pulling out and getting a bike up to speed is a technique as well. One does not simply squeeze the throttle and go, especially on low-grip surfaces, as Haziq demonstrated what NOT to do. The most efficient way to set off is not to spin the tyres – and popping a wheelie isn't wise either because you WILL fall.
These are the three things you need to know when accelerating on a bike:
 Keep a cool head
 Squeeze the throttle and release the clutch progressively
 Shift your weight forwards
After three shaky starts, Zizan was pulling out like a pro.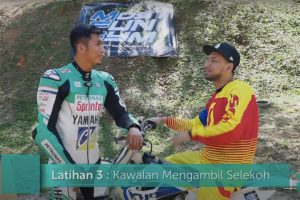 Tip Number 4: Slow In, Fast Out
The challenge of riding on low traction is that any mistakes you make can quickly turn into an epic disaster – just a little too much gas, just a little too heavy on the brakes… They may be minor missteps on a good road but on a sandy or wet road, you will find yourself in trouble. They're especially dangerous when taking a turn at high speeds. Moderation is key.

Taking in the pro tips… like a pro, Zizan nailed it on the second round.
Of course, riding legally is the first part to safe riding. Shortcuts are the fastest way to getting hurt: put in the time at a riding school to learn the essentials on how to ride. Then pass the test to get a proper bike licence. After that, it's down to you to improve your skills, learn from experience and using your judgement – and watching videos like this!

So, for those of you who didn't take the shortcut to click straight to the video, here is Zizan Razak and the PETRONAS Sprinta Riders' day out at Most Fun Gym on the Bengkel Pengejar Impian video.
the-solution
And finally…
There's only so much performance a bike can offer. It is also important to take care of the equipment. By doing so, the equipment will take good care of you, whether you are riding to the market or longer distances.

PETRONAS Sprinta with UltraFlex™ is formulated to protect the moving parts in the engine against heavy engine loads and high heat so it can easily manage commuter riding and traffic jams experienced by road bikes.

Also, PETRONAS Sprinta with UltraFlex™ technology helps the engine to deliver smooth and consistent power which urges the clutch to bite harder and better thus prevents slipping and maintains power. Responsive shifting, getting your bike to do what you want when you want it to, is what every biker needs.