For decades, Nissan cars have been the choice of hundreds of thousands of Malaysians because of their low maintenance costs and reliability. The latest Almera continues this tradition and to give owners and opportunity to see just how far they could stretch each litre of fuel with their car, Edaran Tan Chong Motor (ETCM) made their 2013 edition of the Nissan Lightfoot Quest an exclusive event for Almera owners.
The event, which had been run in previous years and open to other models, has the objective of demonstrating fuel-efficiency in a fun way, with rewards for those who do exceptionally well.
Participants were required to refuel and hand over their vehicles, followed by a briefing session on the rules and regulations at Holiday Inn Glenmarie, Shah Alam, Selangor.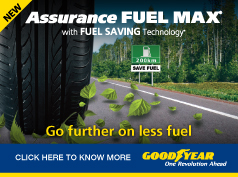 They were also given tips to help them reduce their fuel consumption, such as accelerating lightly and smoothly, avoiding carrying unnecessary loads in the car, avoiding lengthy idling and warming-up the engine for 30 seconds.
The owners then drove their way to a petrol station in Gopeng, Perak, where the fuel tanks were refueled and the consumption calculated.
A requirement in this contest was that the air-conditioner had to be on all the time and to ensure this, the switches were sealed to prevent the system from being switched off. This ensured that the conditions were closer to real-world motoring as most people do not switch off their air-conditioner (which does have an effect on consumption).
The fuel tank and front bonnet were also sealed to prevent refueling or tampering along the way. Representatives of the National Union of Journalists (NUJ) were on hand to observe and verify the results.
The number of entries for the event was 33, with a total number of 66 participants and members of the media were also invited to participate. However, not being actual owners and also being familiar with fuel-saving techniques due to their experience testing many different cars, the media competed among themselves in a separate category.
The Grand Prize winners, Chen Khong Lung/Lai Leh Mey, achieved 27.2 kms/litre and won RM5,000 in cash. The first runner-up team was Rebecca Tan Cheng Ann/Lee Beng Tan who received RM3,000 cash while third-placed Muhammad Izzuddin Ilias/Mohd Faisal Kamarudin took home RM2,000. They achieved 22.8 and 22.4 kms/litre, respectively.
Among the media members, the best consumption was achieved by YS Khong/Ian Khong who did 33.6 kms/litre. That's not surprising since YS is a veteran economy run driver as well as a former Malaysian rally champion.
To locate a showroom for a test-drive of the Almera, visit www.nissan.com.my
For our driving impressions of the car, click here
Related story: Nissan Almera ready to dominate  |  Click here to read about The Tan Chong Story
Looking for secondhand Nissan vehicles? Check our Used Car Listings for advertisements, updated DAILY
[by Chips Yap]