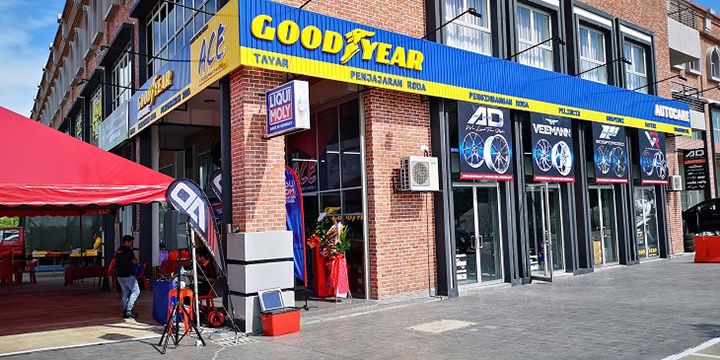 Goodyear Malaysia expanded its network in Rawang through ACE Performance Wheel
The newly opened ACE Performance Wheel Goodyear AutoCare centre in Rawang is now part of the 200 Goodyear Autocare centre network in Malaysia.
Officiated by Rawang Assemblyman Yang Berhormat Tuan Chua Wei Kiat, the latest AutoCare centre offers the latest selection of Goodyear tyres ranging from the affordable Assurance Duraplus 2 or Assurance TripleMax 2, up to the premium Eagle F1 Asymmetric 5.
Located in Rawang, along Kemaris Avenue, ACE Performance Wheel offers state-of-the-art service bays and comprehensive automotive service kits, designed to offer customers a one-stop centre for automotive needs.
"We are always on the look out to expand our channel network or what we call, business partners who are UHP (Ultra High Performance) players in the industry. With more than 200 stores and more to come this year, our goal to have wider reach to our consumers and will mirror our headquarters in the United States of America and European Union where Goodyear is widely known as a UHP brand."

Michelle Wo, Channel Development Manager of Goodyear Malaysia
"At Goodyear, we are committed to ensuring the safety of road users by constantly providing them with the latest innovation in tyres. With these innovations, Goodyear strives to do its part to ensure that drivers remain in control of their vehicles at all times with tyres that offer optimal grip in both wet and dry road conditions."

Alex Ng, Managing Director for Goodyear Malaysia